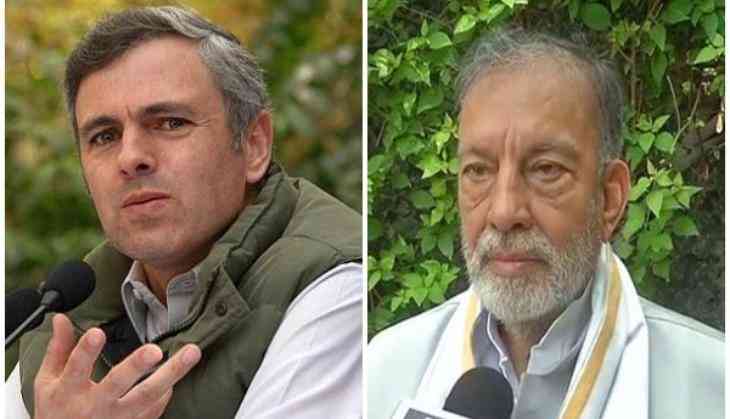 'Powerless' Omar's displeasure against Major Gogoi shows his frustration: NPP (ANI)
After former Jammu and Kashmir chief minister voiced his displeasure on the Major Leetul Gogoi's 'human-shield' issue, National Panthers Party (NPP) leader Bhim Singh on Wednesday said the statement is a clear indication of a 'frustrated young man' who lost power and opportunity to loot the people of the Valley.
Singh told ANI that Omar accusing the Indian Army is nothing new, as his father Farooq Abdullah and his grandfather Sheikh Abdullah used to do the same.
'Nobody takes the Abdullah family seriously in Jammu and Kashmir. He (Omar) is a frustrated young man who lost power, who has no opportunity to loot and he is speaking the language of his father and grandfather. They have been exploiting the people of Jammu and Kashmir for nearly 100 years,' he added.
Echoing similar sentiments, Bharatiya Janata Party (BJP) leader Nalin Kohli said Omar should reflect on his own tenure as a former chief minister before running down on the Indian soldiers.
'He would do well to reflect the history of this problem in the state of Jammu and Kashmir and particularly in the Kashmir valley. Did the Major not go out of his way to protect a situation and ensure that firing doesn't take place and that the Kashmiri people are safe from bullets? Is that not to be taken into context?' he asked.
Kohli further said that the officer should be appreciated for saving human lives rather than being condemned.
Omar Abdullah today said that people should not bother with the 'farce of a military court of inquiry' in the case of the Major, as what matters is the court of public opinion.
'In future pls don't bother with the farce of a military court of inquiry. Clearly the only court that matters is the court of public opinion,' he tweeted.
'And international conventions like the Geneva/Vienna ones only count when India can accuse others of violations. Do as we say not as we do,' he added.
Yesterday, Major Leetul Gogoi, who tied up a civilian, Farooq Ahmad Dar, on his jeep's bonnet as a shield to prevent mobs from attacking Election Commission staff in Jammu and Kashmir's Budgam last month, said he had caught Dar on realising he was instigating a group of stone-pelters and could have been their leader.
Defending his action, the Army Major told the media, 'I have not fired a bullet, not beaten up anyone... there was no collateral damage. From my point of view I have not violated anything... We are here to help the people. The Army is here for common people, against those with weapons and those who fight against nation.'
Hours after Gogoi broke his silence regarding his action, the defence experts lauded the former, saying that the professionalism and cool-headedness he displayed was exemplary.
Defence expert P.K. Sehgal said everybody must have been convinced of Gogoi's sincerity, genuineness, compassion and his concern for human rights after listening to him.
Meanwhile, Kashmiri separatist leader and chief of Hurriyat Conference Syed Ali Shah Geelani has strongly criticised the Centre over the glorification of Major Gogoi.
-ANI