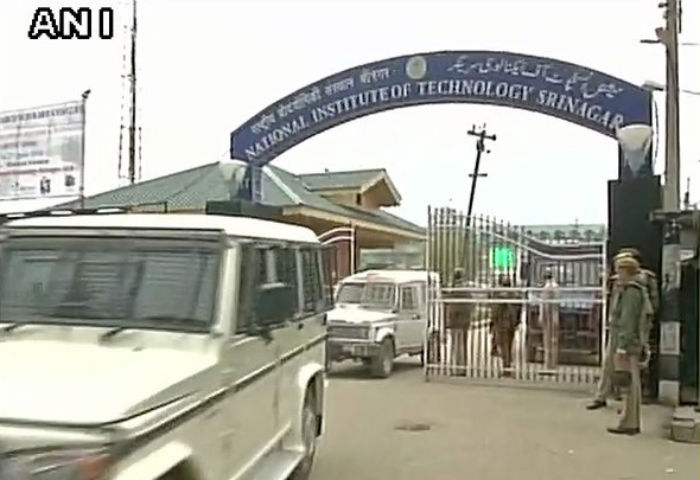 At least four non-Kashmiri students of Srinagar's National Institute of Technology sustained injuries in a police lathi charge inside the campus on 5 April.
According to reports, around 500 non-Kashmiri students, carrying the tricolour, were heading for the main gate of the institute to demand that the exams be postponed when they were lathicharged.
Meanwhile, a two-member HRD ministry team will visit the campus.
#HRD team reaching #NITSrinagar .No student should suffer disadvantage in exam score because of shut down #MyGovIndia

- Dr Jitendra Singh (@DrJitendraSingh) April 6, 2016
Following the incident, two CRPF companies were called in to maintain the peace at the Srinagar campus, IBNLive reported.
The police said the students began pelting stones when they were stopped near the main gate of the campus. Media personnel were barred from entering the campus and reporting the issue. However, Jammu and Kashmir Deputy Chief Minister Nirmal Singh said that the situation had now been neutralised.
In a tweet, Home Minister Rajnath Singh informed that he had spoken to Jammu and Kashmir Chief Minister Mehbooba Mufti, who assured him of immediate action.
Spoke to J&K CM Mehbooba Mufti ji regarding the situation in NIT Srinagar. She has assured me to look into the issue &take immediate action

- Rajnath Singh (@BJPRajnathSingh) April 5, 2016
Last week, the Srinagar NIT campus made news after a few students began celebrating West Indies' beating India in the semi-finals of the T20 World Cup - which led to a clash with other students.