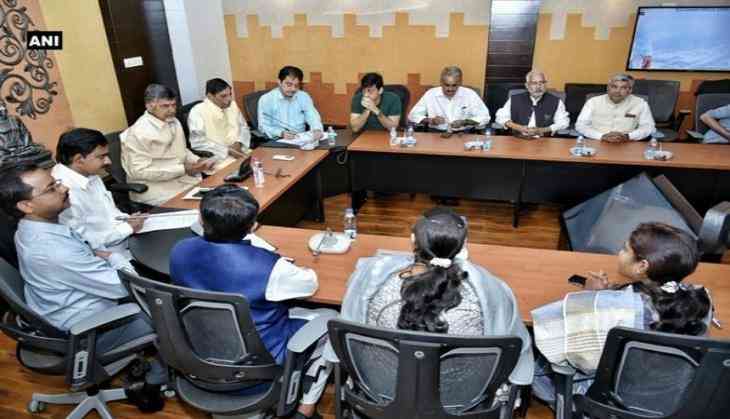 The members of the Parliamentary Standing Committee on Water Resources in Andhra Pradesh made a whirlwind tour of the Polavaram Irrigation Project and expressed satisfaction over its progress.
The chairman of the nine-member committee, Hukum Singh, yesterday stated that Andhra Pradesh would become a state with surplus water reserves by the year 2019, as the functioning of the Polavaram Project would be commenced as per schedule.
Expressing satisfaction over the initiative taken up by Chief Minister N. Chandrababu Naidu for the timely completion of the major project, Singh added that the committee called on Naidu in his office and collected all the details pertaining to the progress of works.
After visiting the project model and the view point, the committee members planned to inspect the works from close quarters.
However, a sudden downpour prevented them from reaching the spot on-foot.
They, thereafter, took to their convoy to assess the progress of works at the ground level.
Meanwhile, Rajamahendravaram MP and member of the committee M. Murali Mohan said the committee was on the job of inspecting major irrigation projects in Andhra Pradesh, Punjab, Chhattisgarh, and Himachal Pradesh and submitting a report to the Centre.
"The committee is extremely happy with the pace of works here. We have inspected the spillway concrete works and radial gates making," he said.
Irrigation Minister Devineni Umamaheswara Rao, Employment Generation Minister P. Satyanarayana, and MP Maganti Venkateswara Rao welcomed the committee members.
Chief Secretary ( Water Resources) Sasibhushan Kumar and Chief Engineer V. Ramesh Babu explained the committee members the project plan and its implementation. Collector K. Bhaskar was also present.
Yesterday, the Chief Minister explained about the construction progress of the Polavaram project to the committee members.
Chief Minister Naidu had also urged the committee to keep the national interest in mind and a 'fast' construction of the project. He also said that a review will be conducted every Monday and every third Monday will be reserved for a personal inspection.
Earlier, Chief Minister Naidu had said the Polavaram project would change the economic scenario of the state. He also informed that the project needs around Rs. 50,000 crore for completion and Rs. 12,000 crore has been spent so far. He exhorted the young engineers to work hard with a commitment to develop the state as number one in the world by 2050.
-ANI