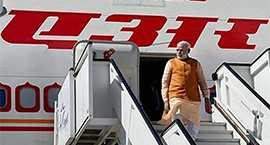 Jashodaben, estranged wife of Prime Minister Narendra Modi, has filed a Right to Information (RTI) application to learn which marriage documents Modi had used when applying for his passport, reports The Times of India.
Last year, Jashodaben had been denied a passport on the grounds that she had not produced a marriage certificate or a joint affidavit with her husband.
In her RTI application which she filed on Wednesday at the Regional Passport Office in Ahmedabad, Jashodaben asked for the details of all Modi's passports, including his very first one, and those issued to him after he became chief minister of Gujarat, said a relative who had accompanied her to the RPO in an autorickshaw along with Jashodaben's brother Ashok Modi.
Jashodaben herself said nothing but "I have come for my personal work" as she exited the RPO 15 minutes after she entered it.
Her RTI application is being scrutinised now, said regional passport officer ZA Khan. "We will give a reply within the stipulated time frame of 30 days," Khan said.
Jashodaben had filed an RTI application just after Modi became PM, asking for details of the security she was entitled to as the wife of the prime minister. She was informed only last November by the Mehsana superintendent of police that security issues cannot be disclosed under the Right to Information Act.