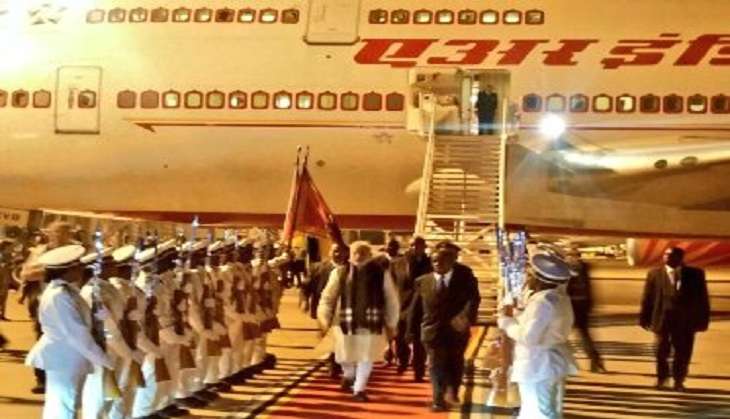 Prime Minister Narendra Modi landed in Maputo, the capital city of Mozambique on 7 July, as a part of his four-nation tour of the African continent.
PM Modi is the first Indian PM to visit Mozambique in 34 years. Former prime minister Indira Gandhi visited the country in 1982.
During his five-day, four-nation tour - which will see him travel to Mozambique, South Africa, Tanzania and Kenya - PM Modi will hold meetings with a special focus on energy, food security, trade, maritime cooperation and diaspora.
In Mozambique, Prime Minister Modi will hold a "restricted meeting" with President Filipe Nyusi. This will be followed by delegation-level talks, a signing of agreements and an issue of a joint statement.
On 5 July, the Union Cabinet approved the signing of a Memorandum of Understanding (MoU) between India and Mozambique on drug demand reduction and prevention of illicit trafficking in narcotic drugs, psychotropic substances and precursor chemicals and related matters.
The MoU is aimed at enhancing mutual cooperation between the two countries in combating illicit trafficking in narcotics, psychotropic substances and their precursors through an exchange of information, expertise and capacity building.
The cabinet also approved a long-term contract by signing an MoU with Mozambique for the import of pulses either through the private channels, or, via Government-to-Government (G2G) sales through state agencies nominated by both nations.
Thereafter, Prime Minister Modi will attend a state banquet hosted by President Nyusi in the Banquet Hall of the Presidential Office.
On 7 July, PM Modi will visit the National Assembly, where he will receive a ceremonial welcome and will be introduced to the members, followed by a meeting with President of the National Assembly Veronica Macamo and signing of visitor's book.
He will also visit the Maluana Science and Technology Park and the Centre for Innovation and Technological Development (CITD), where he will interacts with students.
Before departing for South African capital city of Pretoria in the evening, the Prime Minister will interact with Indian diaspora. He is also expected to visit Johannesburg, Pietermaritzburg and Durban during the visit.
Pietermaritzburg is the place where Mahatma Gandhi was thrown out of the train compartment.
The Prime Minister will have meetings with President John Pombe Joseph Magufuli in Tanzania on July 10 to further enhance mutual cooperation and understanding on major issues of common interest.
The Prime Minister will be in Kenya the next day where he will have bilateral discussions with President Kenyatta.
Prime Minister Modi will also address students in the University of Nairobi during the visit.
--ANI