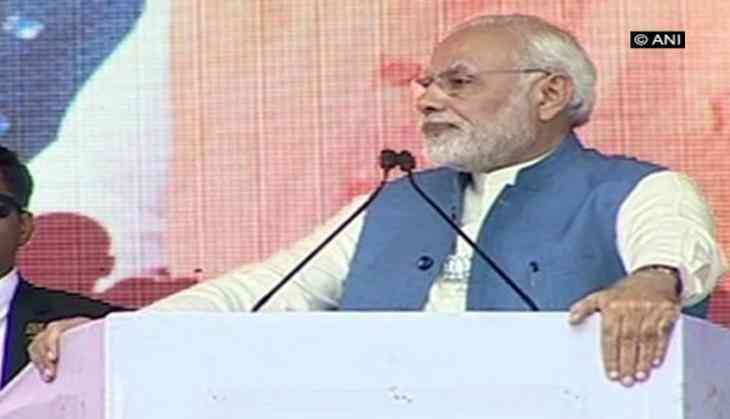 A day after the 61st death anniversary of Bhimrao Ramji Ambedkar, Prime Minister Narendra Modi inaugurated the Dr Ambedkar International Centre here today and said that it would become an important institution for research and economic issues.
Whilst addressing a rally, the Prime Minister said, "Dr Ambedkar International Centre for Socio-Economic Transformation has also been created at Dr Ambedkar International Centre. It will also become an important centre for research on social and economic issues."
Prime Minister Modi said that efforts were made to eradicate Baba Saheb's "wonderful power" after his demise, but his ideas could not be removed from the minds of the people.
"People are more influenced by Baba Saheb rather than the family for whom all this was done," said Prime Minister Modi.
Prime Minister Modi's statement comes a day after he had said that the Congress Party believed that freedom in the country was brought by the Nehru-Gandhi family. "The Congress feels only one family won India's freedom. They forgot the contribution of the tribal communities in India's struggle for freedom. The Congress Party is an expert in lying," he had noted.
Speaking about the contributions by B. R. Ambedkar, who is the father of the Indian Constitution, Prime Minister Modi asserted that the whole nation is indebted by the contributions Baba Saheb has made. He further asked the younger generation to read and study about B. R. Ambedkar.
"This government is taking developing important places connected with the life of Baba Saheb as pilgrimage. The house where Baba Saheb died Dr. Ambedkar National Memorial is being constructed there.
"Similarly, in Mahu of Madhya Pradesh, where Baba Saheb was born, it is also being developed as a pilgrimage. By purchasing the house of Baba Saheb in the house of London, the BJP government of Maharashtra is developing it as a memorial as well," said Prime Minister Modi.
Speaking about the Bharat Interface for Money (BHIM) application, Prime Minister Modi asserted that the app was a tribute to the immense financial vision of Baba Saheb, adding that the BHIM app has come as a "boon for poor, dalits and exploited communities."
However, Prime Minister Modi said that the country has not fulfilled the expectations enthralled by Baba Saheb.
He further said that the "New India" he is talking about is Baba Saheb's dream of India.
-ANI