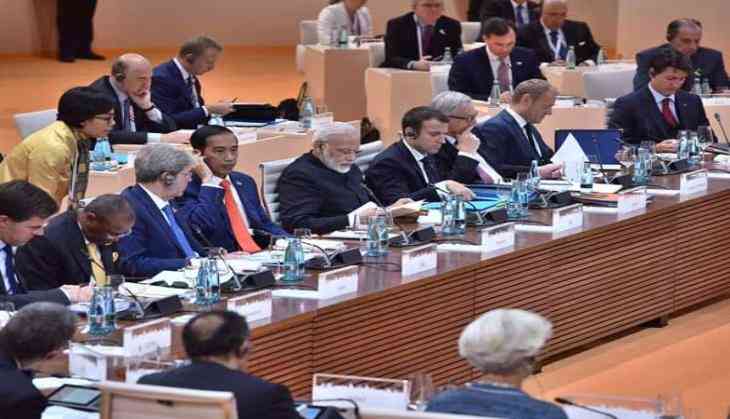 Speaking at the first session on global growth and trade at the G-20 Summit, Indian Prime Minister Narendra Modi highlighted his government's ambitious rollout of the Goods and Services Tax (GST), saying it would create a unified market of 1.3 bn people and build resilience.
He also said that growth and development for all in India is central to his pursuit of eco-prosperity and for this, his government aims to lift 100 million households out of poverty by 2019.
The vision also includes doubling farmers' income by 2022 and equip the 500 million youth of the country with productive skill set.
Talking about the fight against black money, the Indian leader said, "With base erosion and profit shifting adopted, we are ready to carry forward the fight against black money and corruption. Global implementation of Automatic Exchange of Financial Account Information on a reciprocal basis will help curb Black money and illicit flows."
He asserted that demonetisation has dealt a blow to corruption in India, boosted digitisation and enlarged the formal economy.
PM at Session I on global growth and trade: GST will create a unified market of 1.3 bn people& build resilience pic.twitter.com/bKO7C8uxHV

— Gopal Baglay (@MEAIndia) July 7, 2017
PM.Growth& dev for all in India central to our pursuit of eco prosperity pic.twitter.com/akharSdSVx

— Gopal Baglay (@MEAIndia) July 7, 2017
PM :We r ready to carry forward fight against black money and corruption.Hope that #G20 will assume leadership to act on all imp issues pic.twitter.com/6pseNtVYgc

— Gopal Baglay (@MEAIndia) July 7, 2017
He also urged the G20 to voice support for a regime of openness as he said that the rise in protectionism threatens gains from globalisation.
Ahead of the session, Prime Minister Modi met with Japanese counterpart Shinzo Abe on the sidelines of the summit.
Earlier speaking on terrorism, at Leaders Retreat here the Indian leader also presented an 11-point action agenda for counter-terrorism as he stated the need to strengthen inter-governmental cooperation amongst the G-20 nations.
Prime Minister Modi's 11-point action agenda included deterrent action against countries supporting terrorism and banning entry of leaders of such countries to the G-20 nations; exchange of suspected terrorist list among the G-20 nations and joint action against them and to simplify and expedite extradition and other legal processes.
The Prime Minister also, earlier in the day, attended the informal gathering of BRICS leaders in Hamburg. The Indian leader also had a conversation on a range of issues with Chinese President Xi Jinping at the gathering.
-ANI