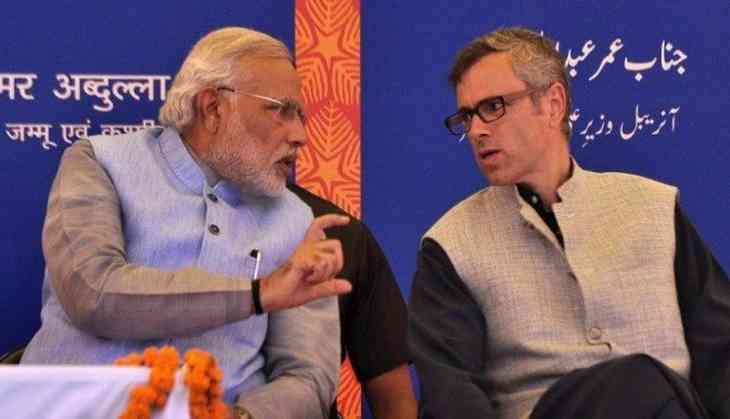 Former Jammu and Kashmir Chief Minister and National Conference leader Omar Abdullah's seeking a separate Prime Minister for Jammu and Kashmir remark has triggered a row. The Prime Minister Narendra Modi on Monday slammed the NC leader over his statement and asked the ally Congress to clarify its stand on his remark.
Without Abdullah, PM Modi addressing an election rally at Hyderabad said, "He says we will take the clock back and replicate the situation before 1953 and there will be two Prime Ministers in India, Kashmir will have its separate PM".
"Two Prime Ministers for Hindustan? Do you agree with it? Congress has to answer and all the 'Mahagathbandhan' partners have to answer. What are the reasons and how dare he say that", he said?
After PM Modi's furious response, NC leader Omar Abdullah hit out back. Abdullah said his party's demand is compliant with the provisions of the Indian Constitution.
"It's what the terms of accession guaranteed J&K. It's what the Constitution of India, the same Constitution you take an oath to uphold, guaranteed J&K. All we ask is what the Constitution gave to J&K," Abdullah tweeted, hours after PM Modi lashed out at the Opposition parties.
My party has always stood for the restoration of the terms of accession which Maharaja Hari Singh negotiated for J&K in 1947 & we have done so unashamedly.

— Omar Abdullah (@OmarAbdullah) April 1, 2019
There was a footnote for the allies of the National Conference as well.
"Dear friends in the Congress & other opposition parties. Please don't hesitate to distance yourselves from my speech of today. In fact, call Modi ji's bluff by doing exactly that," another tweet from Mr Abdullah read.
Modi quizzed Trinamool Chief and West Bengal CM Mamata Banerjee, former Prime Minister H D Deve Gowda, Andhra Pradesh CM N Chandrababu Naidu and NCP supremo Sharad Pawar whether they agreed with Omar Abdullah's statement.
Also read: Jammu & Kashmir: BSF Officer, 5-year-old girl die in Pak shelling in Poonch sector