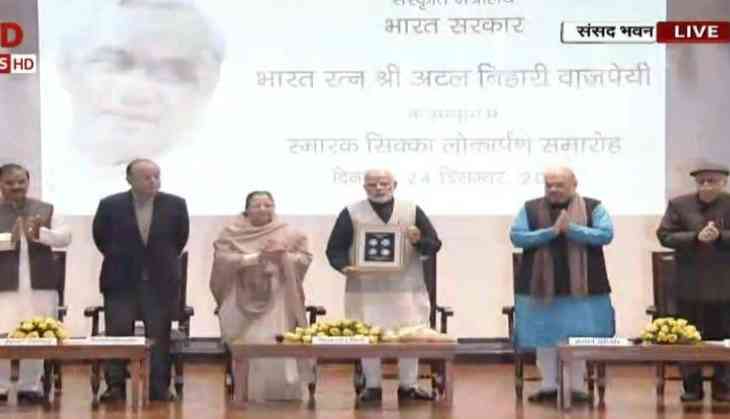 PM Modi releases Rs 100 coin
PM Narendra Modi today has released a commemorative coin of Rs 100 in the memory of former prime minister and Bharat Ratna late Atal Bihari Vajpayee.
PM Modi has released the coin ahead of Vajpayee's birth anniversary, which is scheduled for tomorrow ie. 25th December, although the BJP government is set to announce schemes, projects and other inaugurations tomorrow, in the name of the founder of the Bhartiya Janta Party.
It was Atal Bihari Vajpayee, who along with senior BJP leader Lalkrishn Advani had formed the BJP in April 1980 from the Jan Sangh and later on, the former became the first prime minister from the right-wing party.
BJP in trying to en-cash all the sympathy votes in the name of former PM Vajpayee, who passed away in August earlier this year as the party has announced several raods, parks, stadiums and even cities in his name.
Also read: PM Modi to inaugurate India's longest road-cum-rail bridge over river Brahmaputra on this Christmas Day
Prime Minister Narendra Modi releases commemorative Rs 100 coin in memory of former prime minister Atal Bihari Vajpayee. pic.twitter.com/wE1KHYgEsZ

— ANI (@ANI) December 24, 2018