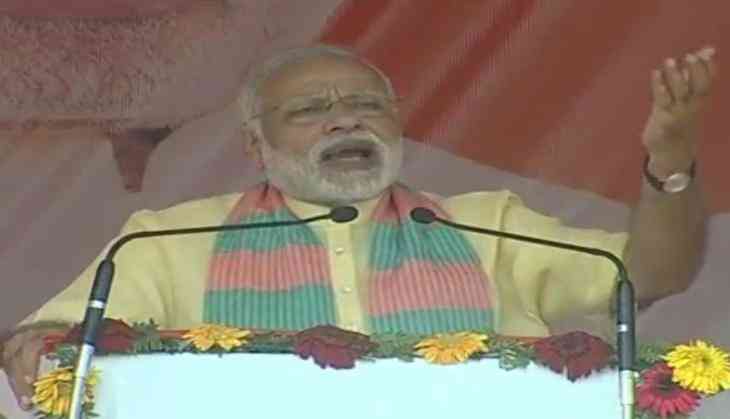 Stating that hard work is more important than Harvard thinking, Prime Minister Narendra Modi on Wednesday took a dig at Nobel-winning Harvard economist Amartya Sen, without mentioning his name, while referring to criticism faced by the ruling Bharatiya Janata Party (BJP) post the November 8 demonetisation drive.
"The country has seen difference between Harvard and hard-work. On the one hand they talk of what people at Harvard say, on the other a poor person's son through his hard work is trying to grow the economy," he said while addressing a rally here ahead of the sixth-phase of Uttar Pradesh Assembly elections.
The Prime Minister also took a jibe at Congress vice-president Rahul Gandhi's coconut juice remark and asked as to how one can expect development in the country when it has such great leaders.
"A young leader from the Congress campaigned in Manipur and said would sell coconut 'juice' and would sell it in London. Even small children know coconut has water. How is it even possible to extract juice from it? The Congress has such talented people, who will sell coconut juice in London and set up potato factories in UP," he said.
Quoting a statement written on the official website of Uttar Pradesh Government which states 'life in UP is short and uncertain in this respect UP resembles Saharan Africa', he taunted Chief Minister Akhilesh Yadav's Samajwadi Party.
Further targeting the Congress- Samajwadi Party alliance, the Prime Minister said that one has expertise in ruining the country while the other has expertise in ruining the politically crucial Uttar Pradesh.
"What will happen if they come together?" At one side there were people who were saying 27-saal Uttar Pradesh behaal and the other was making it behaal and when the dates of election were announced both of them joined hands. Now, they are going to make the condition of the state worst," he said.
"I started 'Swachh Bharat Abhiyan' across India, but the people of UP took it to another level by cleaning all dirt from politics in the state," he added.
Expressing confidence of winning the assembly elections, Prime Minister Modi said the people will surely take revenge of the injustice being done to them in the last 15 years.
"The people have made BJP victorious in the five phases that took place, you only have to give us a bonus in the sixth and seventh phase," he said.
Prime Minister Modi said that his government is focused to fulfilling the aspirations of the poor and to uplift them without discriminating anyone on the basis of caste or religion.
"We want our rural India to be smoke-free. We want them to have access to clean fuel. We are providing them LPG connections. We have even reduced the rate of LED bulb in the country. Our initiative is an example for everyone to see that how one should work for the welfare of the people," he said.
Campaigning for the sixth phase of Assembly elections in Uttar Pradesh has reached its peak and political parties are making all out efforts to woo the voters in poll-bound areas.
49 constituencies spread over seven districts of eastern UP will go to polls in this phase on Saturday.
These districts are Maharajganj, Kushinagar, Gorakhpur, Deoria, Azamgarh, Mau and Ballia.
BJP President Amit Shah will conduct a road show tomorrow, last day of campaigning at Gorakhpur.
Senior BJP leader Manoj Sinha, Arun Jaitely, Ravi Shankar Prasad and Delhi BJP president Manoj Tiwari have hectic schedule for campaigning for remaining phases. Manoj Sinha will be at Maharajganj, Kushinagar and Ballia districts. Tiwari will be at Maharajganj, Kushinagar and Ballia. Congress leader Rahul Gandhi will be addressing two rallies at Kushinagar while Senior party leader Gulam Nabi Azad will be at Gorakhpur and Maharajganj districts.
--ANI