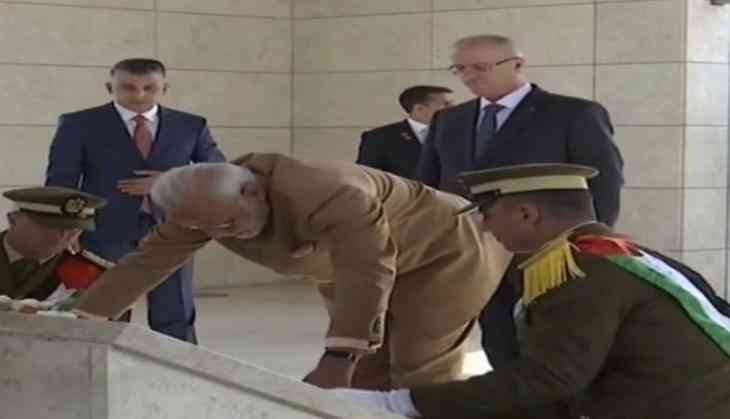 Prime Minister Narendra Modi on Saturday laid wreath at the mausoleum of late President of Palestine Yasser Arafat in Ramallah.
He was accompanied by Prime Minister of Palestine, Rami Hamdallah. The Mausoleum of Yasser Arafat was unveiled on November 10, 2007 and is located adjacent to the compound of Presidential Headquarters (Al-Muqata'a).
The Mausoleum has many symbolic features. The length of each of its walls is 11 meters forming a cube, dimensions of the cube signifying the date of Yasser Arafat's death on the 11th day of the 11th month.
After paying homage to Yasser Arafat at the Mausoleum, PM took a short tour, accompanied by PM Rami Hamdallah, of the Yasser Arafat Museum located adjacent to the Mausoleum.
The Prime Minister on his first day of the three-nation tour will hold meetings and exchange agreements with ministers in Ramallah in the West Bank.
Ministry of External Affairs Spokesperson Raveesh Kumar said Prime Minister Modi's visit to Ramallah in Palestine was the first ever visit by an Indian Prime Minister there.
Prime Minister Modi's visit to Palestine comes a month after India hosted Israel's Prime Minister Benjamin Netanyahu.
On February 9, Prime Minister Modi arrived in Jordan, which is his transit to Palestine. The prime minister's office expressed gratitude to King Abdullah II of Jordan for facilitating the transit.
After Palestine, the Prime Minister would visit United Arab Emirates (UAE) and Oman.
--ANI