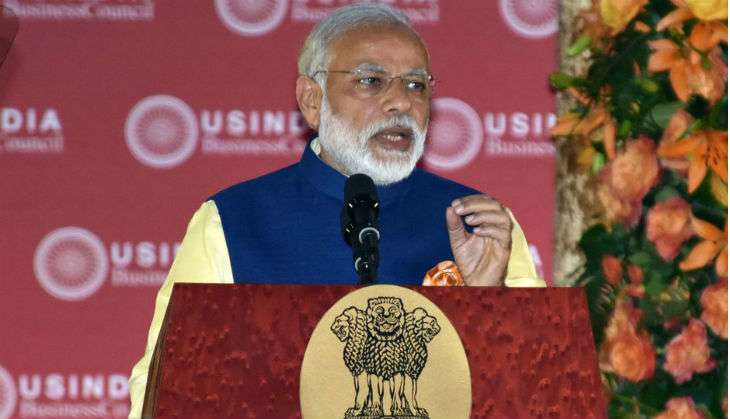 On 7 June, Prime Minister Narendra Modi said that India is not just a market but the country is all set to contribute as a "new engine of global growth".
In an address to the American business community in Washington, PM Modi said, "This is the time when the world needs new engine of growth. It would be nice if the new engines are democratic engines."
Asserting that America is not just a country with a great past, PM Modi added, "It is a country with an exciting future and Indian-Americans are a powerful cementing force in our growing economic and cultural ties. In two years, we have managed to overcome the odds and register an impressive economic performance."
Outlining his vision for the future, PM Modi pointed to a comprehensive package of reforms for transforming India.
This would include:
Macro-economic policies to create a strong foundation.
Policies to stimulate growth and employment through investment and trade, and to increase efficiency and productivity.
Policies to ensure that growth benefits the poor and the weaker sections of society, including women and farmers.
A frontal attack on corruption.
"This brings me to an achievement that I think even our worst critics do not dispute. This is the change in levels of corruption," PM Modi said at the annual gala of the US India Business Council. "There has been a significant change in the levels of corruption on account of decisive steps that we have taken," he added.
PM Modi said India is encouraging foreign and domestic investors to set up high quality and efficient manufacturing facilities.
Highlighting the need for a strong banking system for India's economy to succeed, PM Modi said, "The Jan Dhan Yojana has also transformed the ability of the poor to make and to receive electronic payments."
Promoting inclusive growth, he mentioned initiatives for financial inclusion and social security, particularly in the agriculture sector. He said his government has paid special attention to gender justice and to empowering women.
Calling upon the developed countries to open their markets not only to goods from countries like India but also to services, the Prime Minister said, "A partnership between American capital and innovation, and Indian human resources and entrepreneurship can be very powerful."
-With ANI inputs