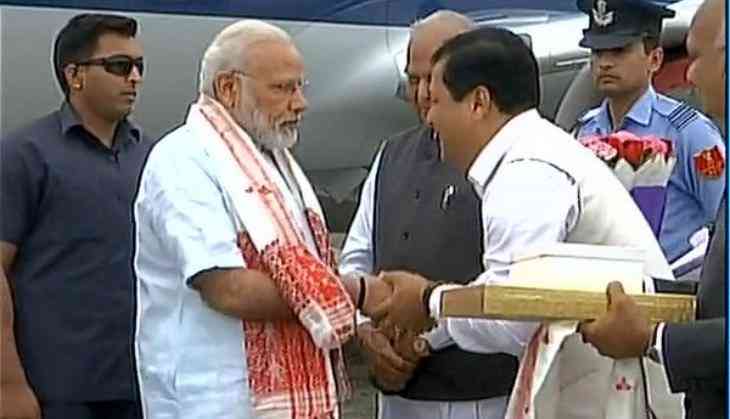 PM Modi in Assam to inaugurate key infra projects (ANI)
Prime Minister Narendra Modi arrived in Dibrugarh on Friday to inaugurate Dhola-Sadiya Bridge in Assam's Tinsukia district, the nation's longest bridge, besides other projects.
He will also address a public meeting where he is expected to speak about the three years of his government.
Earlier, in a series of tweets, he described the Dhola-Sadiya Bridge as one of the most important infrastructure projects to be undertaken in India.
He also congratulated Sarbananda Sonwal for completing one year in office as Assam's Chief Minister.
Chief Minister Sonowal received the prime minister at the Mohanbari Airport in Dibrugarh from where he proceeded to the Dhola-Sadiya Bridge for the inauguration ceremony.
The bridge has been constructed across the River Brahmaputra and connects Dhola with Sadiya in Upper Assam's Tinsukia district.
The bridge is longer than Mumbai's Bandra-Worli Sealink by 3.55 kilometres, and has been created to carry T-72 tanks.
According to reports, to cross over to Sadiya near the Lohit border in Arunachal, will take 30-minutes, reducing the travel time by four hours.
After the inauguration, Prime Minister Modi is expected to proceed to Gogamukh in Northern Assam's Dhemaji district to lay the foundation stone for Indian Agricultural Research Institute (IARI). He will then leave for Guwahati at around 1.50 p.m., where he will lay the foundation stone of the All-India Institute of Medical Sciences (AIIMS), the first such institute come up in the Northeast.
The proposed medical college will come up at Changsari in Kamrup (Rural) district, 28.5 kilometres from Guwahati.
He will conclude his visit to the state by addressing a rally at Khanpara on the achievements of his government over the last three years.
-ANI