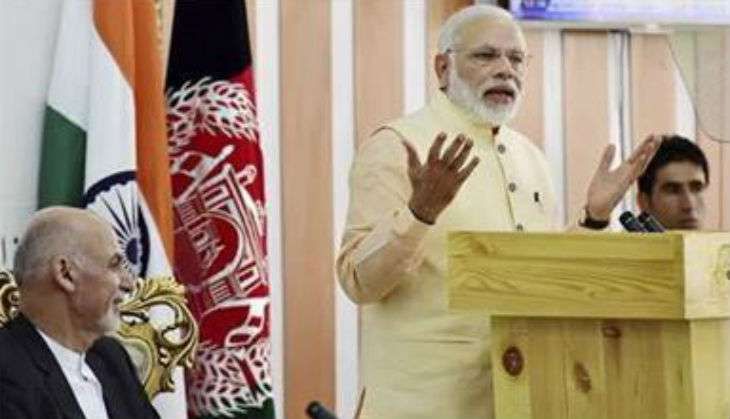 After inaugurating the India-Afghanistan Friendship Dam which reinforced the 'historic' ties between the two countries, Prime Minister Narendra Modi on Saturday said the dam was not just a generator of electricity, but a symbol of optimism and belief in the future of Afghanistan.
PM Modi arrived in Herat earlier today and inaugurated the dam, which was earlier known as the Salma Dam, along with Afghanistan President Dr. Ashraf Ghani.
The Indian Prime Minister said the event marked a 'historic moment' of emotion and pride in the relations between Afghanistan and India.
Salma Dam is a landmark infrastructure project undertaken by the Indian government on the river Chist-e-Sharif, in Herat.
"Today we are not just launching a project that will irrigate land and light up homes, we are reviving a region, restoring hope, renewing life and redefining Afghan's future. The dam is a generator of not just electricity but also of optimism and belief in the future of Afghanistan," he said at the inauguration function.
"The project would not only irrigate the fields of 640 villages, it would also bring lights in over 2,50, 000 homes in this area," he added.
Prime Minister Modi, who was honoured with Amir Amanullah Khan Award, Afghanistan's highest civilian honour, also thanked the Afghan President for his invitation and naming the dam as 'Afghan-India Friendship Dam'.
Highlighting the ancient links between Afghanistan and India, the Prime Minister said, "The friendship dam unites us in solidarity, just as Chisti Sharif joined us in spirit centuries ago".
"For it is from here that Chisti Silsila or Chisti tradition came to India. Its glorious tradition and teachings resonate through the dargahs of Ajmer, Delhi and Fatehpur Sikri," he added.
He further recalled his last visit to Afghanistan for the inauguration function of their Parliament and said he was moved by the epic struggle that the Afghans went through to establish democracy in the country.
"Last year in December, I was moved by the honour of inaugurating the Afghan Parliament building. It was a tribute to the epic struggle of the Afghan people to shape their future by vote and debate, not gun and violence," he said.
-With ANI inputs