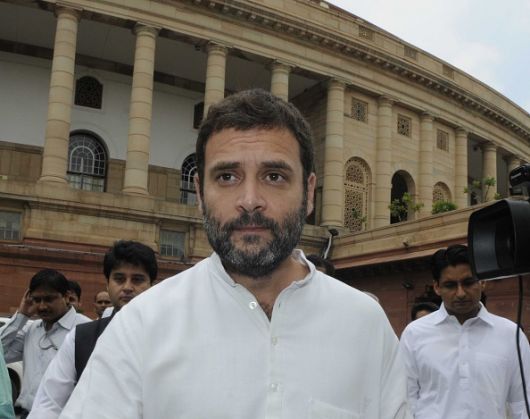 After External Affairs Minister Sushma Swaraj clarified on all charges levelled against her in the Lalit Modi travel papers case, Congress Vice president Rahul Gandhi targeted Prime Minister Narendra Modi for not participating in the debate.
Responding to the BJP's defence, Gandhi said: "The Prime Minister says na khayunga, na khane dunga but he doesn't have the guts to sit here and face our questions."
He added: "Gandhiji ke teen bandar kehte hai bura mat dekho, bura mat shuno, bura mat karo. Modi ji ke 3 naye bandar hai, unka kehna hai- Sach mat dekho, sach mat suno, sach mat bolo"
Not satisfied with Swaraj's defence, Rahul said, "For the first time someone has tried to hide an act done on humanitarian ground." He called IPL the den of black money.
Earlier in a spirited fight back, Swaraj tore into Congress, saying it had helped Bofors accused Ottavio Quattrocchi and Bhopal gas leak accused Warren Anderson flee from India.
Specifically responding to Congress Vice President Rahul Gandhi's charge that her family got money to help the IPL founder, she said that neither her husband nor her daughter made any money from Modi. Instead she accused former finance minister P Chidambaram of conflict of interest when his wife Nalini Chidambaram represented the accused in the Shraddha scam case.
Swaraj has been battling charges of conflict of interest on account of helping Lalit Modi acquire his travel papers from British authorities. Congress stalled all parliamentary proceedings during the ongoing monsoon session demanding her resignation.