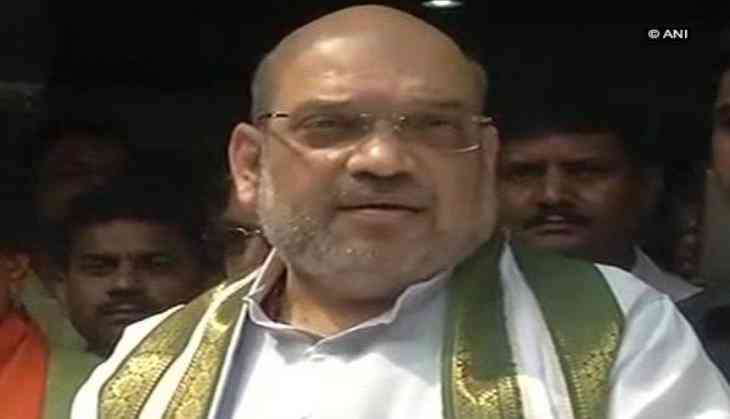 Bharatiya Janata Party (BJP) national president Amit Shah on 3 October held Kerala Chief Minister Pinarayi Vijayan directly responsible for killing of party and Rashtriya Swayamsewak Sangh (RSS) workers in the state.
"Look at the West Bengal's and Tripura's situation, the communists ruled here long. Peaceful Kerala is turning violent and the communist ideology is spreading here. More than 120 BJP and RSS workers have been murdered in Kerala so far. Chief Minister Pinarayi Vijayan is directly responsible for it. So we are taking out this 'Janaraksha Yatra' against the political violence in the state," Shah said
Ahead of Shah's campaign in Kannur against alleged killing of party and RSS workers in Kerala; three BJP workers were allegedly attacked by Communist Party of India (Marxist) CPI (M) workers in Kerala's Kasaragod district.
As per reports, the three BJP workers have sustained injuries in the attack.
A case has also been registered in this regard.
Shah's yatra in the district against the political violence in the state is scheduled from today to October 17.
Shah has launched a 15-day rally in Kerala to target the state's CPI (M) government with the BJP accusing the Left party of being on a "killing spree" against its party workers.
The BJP national president alleged nearly 120 BJP workers, 84 in Kannur alone, were killed in Kerala since 2001 with 14 of them in Chief Minister Vijayan's home town since he took the reins last year.
Shah also offered prayers at the famous Rajarajeswara Temple in Kannur before kicking off the yatra which is aimed at increasing the party's footprint in Kerala.
Several Union ministers are likely to participate in the rally under the theme of "All have to live!! Against Jihadi-Red Terror".
-ANI