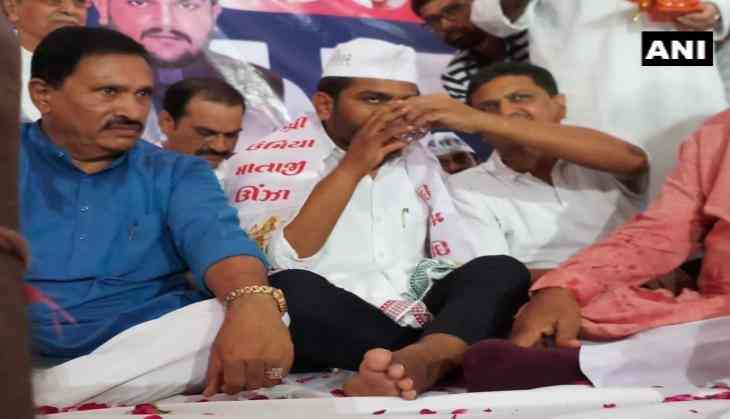 Patidar leader Hardik Patel who was on an indefinite hunger strike in the presence of Khondaldham trust chairman Naresh Patel and other trustees of Patidar trusts end his hunger strike on the 19th day. Hardik was on strike demanding reservations for Patidar community and loan waiver for farmers.
While breaking his fast, Patel said, "After 19 days, all the leaders of this community came and asked me that I will fight only if I'm alive. That is why I broke the fast. I am very grateful for your support." "It's the work of youngsters that they fight. It is the work of elders to give us direction," he added.
The official Twitter handle of Hardik Patel tweeted that the decision to end his hunger strike came after he pleaded by his supporters to break his fast to stay healthy for a longer battle.
"Kisano evam samaj ki kuldevi Shri Umiya Mataji mandir, Unjha aur Shri Khodal Mataji mandir, Kagvad ke pramukh logo ne mujhe kaha ki tumhe zinda rehke ladai ladni hai. Sab ka samman karte huye anishchit kalin upvas andolan ke aaj unnisve din dopahar teen baje upvaas andolan khatm karunga (Farmers and Patidar community's deity Shri Umiya Mataji temple, Unjha and Shri Khodal Mataji temple, Kagvad's leaders said to me that I need to stay alive to fight the battle. Respecting everyone, I am ending my indefinite fast movement today at 3pm on the 19th day of my hunger strike)," tweeted Hardik Patel.
भारत में जिस तेजी के साथ रोजगार में कमी आई है वह किसी भी सभ्य राष्ट्र के लिए चिंताजनक है।दिन प्रतिदिन बढ़ती बेरोजगारों की फौज हमारी व्यवस्था को ध्वस्त कर देने के लिए बहुत है।निश्चित रूप से बेरोजगार युवा किसी भी देश के लिए शर्म का विषय होते हैं।राष्ट्रीय शर्म न बन जाए बेरोजगारी।

— Hardik Patel (@HardikPatel_) September 11, 2018
The 25-year-old leader was on the indefinite hunger strike since August 25, the third anniversary of Patidar quota agitation, which had turned violent.