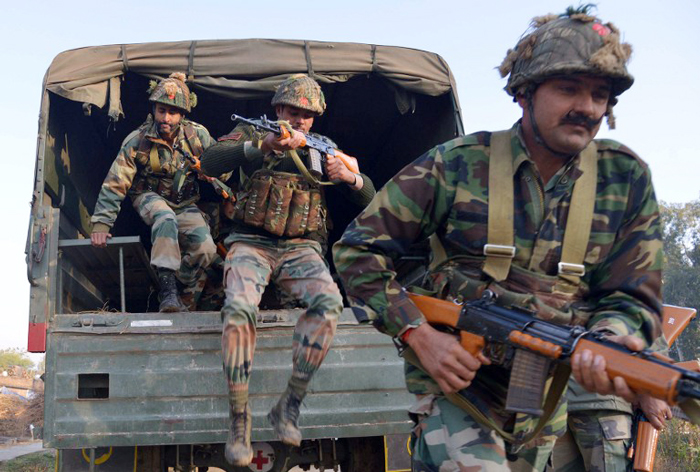 No human remains were found in what the National Security Guard handed over to forensic investigators as the remains of a terrorist killed in the attack on the Pathankot air base on 2 January, reports The Indian Express.
The 'terrorist's remains' were taken from the airmen's billet where NSG commandos had fought for 48 hours, claiming that two terrorists had been firing from there. The building eventually caught fire.
National Investigation Agency officers say they cannot explain how NSG commandos were injured outside the airmen's billet if there were no terrorists inside.
While the NIA says only four terrorists were involved in the attack, the NSG says there were six.
An NIA officer said that seven rounds of searches were conducted at the airmen's billet, during which nothing related to any sort of attack was found, even tiny chips of weapons, grenades, or human bones.
"For the sake of argument, I'm willing to concede the fire was intense enough to reduce corpses to dust, even though you usually find bones and teeth even after a cremation," said the NIA officer. "However, the fact is that assault rifles or pistols don't melt in fires. Even exploding ammunition leaves behind metal shrapnel."
He added: "The bottom line is there is no material evidence to back up the NSG's claim."
The NSG's version of events, according to NSG Director General RC Tayal who spoke on the issue last month, is that after four attackers were killed within hours of the raid, prompting the Home Minister to congratulate the troops on a successful operation, they received intelligence from the Jammu and Kashmir Police that indicated that there might have been two others in the attack team.
While searching buildings nearby, a grenade was lobbed from behind a closed door at the airmen's billet, seriously injuring one commando and lightly injuring five others.
While no NSG commando actually sighted the two suspected terrorists, a wall-penetrating radar showed there was at least one person in the building. "According to us, weapons were with them as we were getting firing from inside," Tayal said.