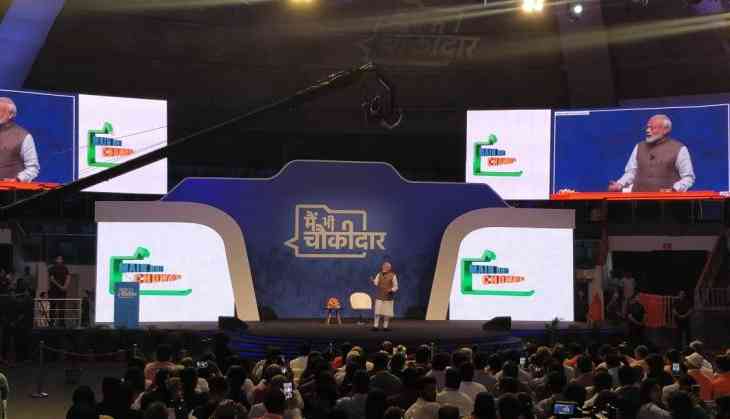 In the wake of bitter relation between India and Pakistan, PM Narendra Modi has stated that the neighbour country will 'die its own death' and said that 'for me, the country is priority, not elections.'
Speaking at the 'Main bhi Chowkidar' event organised by the BJP, which was telecasted live at 500 different places across the country, herein PM Narendra Modi was addressing the Chowkidars of the nation and he said, 'Pakistan has now opened its airspace, thinking that Modi is busy in elections,' but he added that decisions affecting the national security is much above than petty political gains.
"We have spent a lot of time doing 'India-Pakistan'. Pakistan will die its own death, leave that and lets move ahead," PM Modi said.
#WATCH PM Modi, says, "Pak is in dilemma, if they say something happened in Balakot, they'll have to accept, 'Yes, we had terrorist camps operating here.' They kept telling the world, there's nothing, we attacked the place they can't hide anymore." pic.twitter.com/os6e6VQfIV

— ANI (@ANI) March 31, 2019
While taking a dig at the Rahul Gandhi's NYAY scheme of income guarantee plan, Modi brought in first PM Jawaharlal Nehru and said that it has been a tradition of the Nehru-Gandhi family to raise the slogan of poverty.
PM Modi, addressing the Chowkidars said, "The country's first prime minister expressed worry regarding poverty, talked about eradicating it… Then his daughter took it forward, both poverty and the slogan. After which came her son. He too took forward both poverty and the slogan."
Meanwhile, raising the pitch of Chowkidar ahead of the Lok Sabha polls of 2019, PM said, "I am sure the people like chowkidars… I am happy that the spirit of chowkidar is constantly expanding."
General Election is schedule to begin from April 11 and the result will be declared on May 23.
Also read: Rahul Gandhi: We will fill 22 lakh government vacancies by March 2020