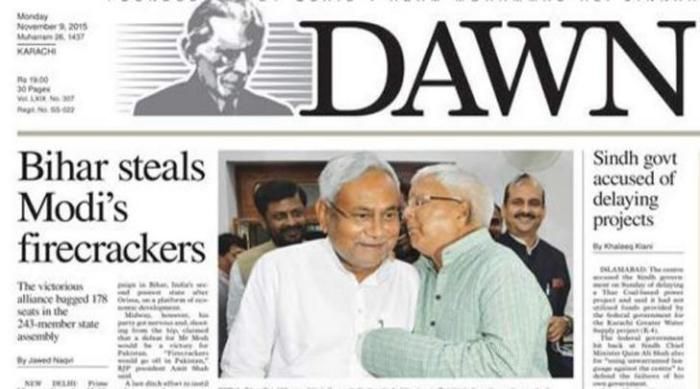 'Bihar voters put Modi out to pasture', 'Bihar steals Modi's firecrackers', 'Modi's BJP bites the dust in Bihar for its extremism' and 'Waning popularity: Modi suffers defeat in crucial Bihar election' were some of the headlines appearing in Pakistani newspapers after the Prime Minister Narendra Modi-led Bhartiya Janata Party (BJP) conceded defeat in the recently held Bihar Assembly polls.
BJP president Amit Shah's 'firecracker' remark resounded in the neighbouring country across several papers.
"If by mistake the BJP loses the polls, crackers will go off in Pakistan," the party president had said while addressing a rally in Bihar's East Champaran district last month.
The Dawn newspaper was particularly bitter in its take on Prime Minister Modi in the article, 'Bihar steals Modi's firecrackers' saying that, 'Modi's cow politics was put out to pasture' after the BJP-led NDA ended with a paltry 58 seats in the assembly elections as opposed to the massive 178 seats secured by the 'mahagathbandhan' or 'Grand Alliance' of Nitish Kumar and Lalu Yadav.
In another article titled 'Bihar voters put Modi out to pasture', the Dawn, termed the Bihar election result as being against 'Modi's cow politics'.
"A resounding verdict in Bihar against Indian Prime Minister Narendra Modi's cow politics at the expense of India's traditional tolerance of food habits, put his Bharatiya Janata Party (BJP) out to pasture on Sunday while setting the agenda for an opposition regrouping against his narrow nationalism," the Dawn wrote.
Taking a jibe at Modi's popularity, the Express Tribune wrote that the defeat put forth the "waning power of a leader, who until recently, had an unrivalled reputation as a vote winner."
Another paper The News International also brought Modi down a peg, using 'extremism' and 'religious intolerance' as synonyms for the BJP.
"The extremism and religious intolerance that was on the rise after Narendra Modi came to power in India received a setback, as the Bharatiya Janata Party (BJP) suffered a thumping defeat in the Bihar state assembly elections," it said.
The daily also accused the BJP of failing to rein in Hindu hardliners during the election campaign despite Modi's appeals for unity.
The BJP's failure to rein in their leaders from making inflammatory comments on the unfortunate Dadri lynching incident nor taking action on them, was an ominous indication for them in the Bihar polls.
The Opposition then pounced on the BJP in regard to the incendiary remarks made by their own leaders and attacked the Prime Minister for not taking action on them.
-ANI/Saloni Gupta