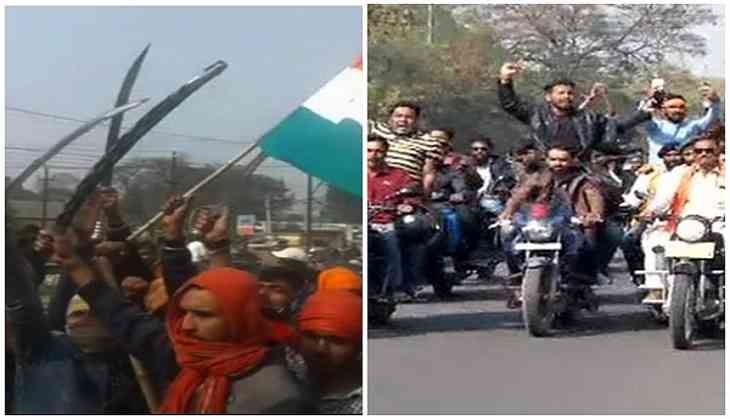 Rajput community on Thursday protested against film Padmaavat in Bihar's Muzaffarpur by brandishing swords.
Hundreds of protesters took to the streets and raised slogans against the cast of Padmaavat. Many masked protesters were seen brandishing swords. They also burnt tires on the streets to disrupt traffic.
While in Jaipur, members of Rajput Karni Sena took out bike rally in protest against film Padmaavat.
Hundreds of bike-borne Karni Sena activists took a whirlwind round of the main streets of Jaipur city and they raised slogans against the cast of controversial film 'Padmaavat'.
The Sanjay Leela Bhansali magnum opus, which released today, has been embroiled into controversy since its inception.
While various Hindu and Rajput fringe outfits have raised objections over the epic drama, the Supreme Court has given a green signal to the film.
The top court had set aside the notification passed by the states of Madhya Pradesh, Haryana, Rajasthan and Gujarat to ban the release of the movie.
Also read: 'Padmaavat' releasing in Pakistan without cuts and with a 'U-Certificate'
Meanwhile, various fringe groups including Rajput Karni Sena have gone on a rampage and are creating ruckus all over India demanding a ban on the film.
-ANI