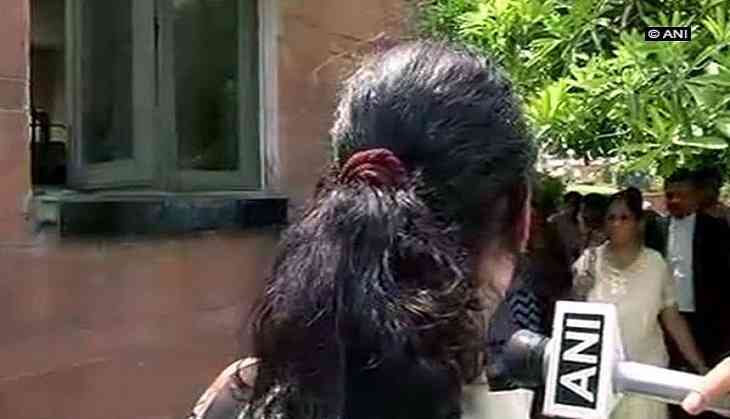 The victim and complainant in the R.K. Pachauri sexual harassment case on Friday said the tactics of the accused to delay the case actually gives her more strength and determination to ensure the guilty is imprisoned.
While speaking to ANI, the victim said it is her right to talk to the media and she will continue doing so.
"They filed a review petition just yesterday. Couldn't they do it before? Just one day prior to hearing they file a review petition. It is a clear conspiracy of delaying the matter. They are doing this thinking that it is a girl with whom we are fighting. Let's trouble her, make her take rounds of court and then who knows, she might just quit it herself. But, this will only going to give me more strength and determination to ensure that I see him in jail," she said.
Pachauri, today, moved an application against the complainant for talking to media.
Countering the same, the victim said when the same is done by him it is not a problem, but when she interacts with the media, a problem erupts.
"He can give interviews and sit on prime time and share evidence; it is not a problem then. But when I interact with media they have a problem. It is my right and I will talk to the media. It is down to my comfort level, not theirs," she said.
The victim categorically stated that she did not get any support after filing her complaint.
The victim also appealed to the police to do their best so that the truth prevails. She also hoped the judicial system speeds up, especially in such cases.
"Unfortunately, our judicial system is not as fast as it should be. I would keep fighting and not step back. Because we do not have any other option apart from this," she said.
"In such cases in India, we don't see much pro-activeness in investigation. I would appeal to the police to do their best," she added.
A Delhi court today heard the case filed against former TERI chief Dr. R.K. Pachauri in connection with the sexual harassment of a research scholar and adjourned the matter for October 25.
The FIR was lodged against Pachauri on February 13, 2015 for alleged offence of sexual harassment, criminal intimidation on the basis of a complaint of 29-year-old research analyst of TERI.
-ANI