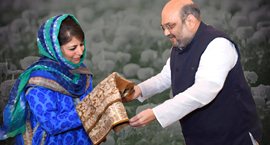 The crisis of government formation in Jammu and Kashmir could be resolved with just a phone call from Prime Minister Narendra Modi or BJP president Amit Shah to PDP chief Mehbooba Mufti, reports The Indian Express. PDP sources said Mehbooba just needs to be assured by Modi or Shah that the BJP will stand by the agenda of alliance between the two parties in J&K, and implement it sincerely.
Kashmir has been under Governor's Rule since 8 January, a day after its chief minister Mufti Mohammed Sayeed passed away. Mehbooba Mufti took over his post as leader of the People's Democratic Party. It had been assumed she would form the coalition government with herself as chief minister, but instead she kept silent, indicating that she was reconsidering the alliance between her party and the BJP in the state.
On Sunday, at a party meeting in her residence, Mehbooba apparently said that she needed to be convinced that the BJP would stick by the agenda of the alliance. Following that, J&K Governor NN Vohra asked the leaders of both parties to meet him on Tuesday.
PDP sources told The Indian Express that Mehbooba has been in touch with Union Home Minister Rajnath Singh and party general secretary Ram Madhav. However, she is yet to receive any assurance on the issue.
"There are no conditions. The agenda of alliance is sacrosanct for us and we only want its implementation," Mehbooba Mufti apparently told PDP MLAs on Monday.