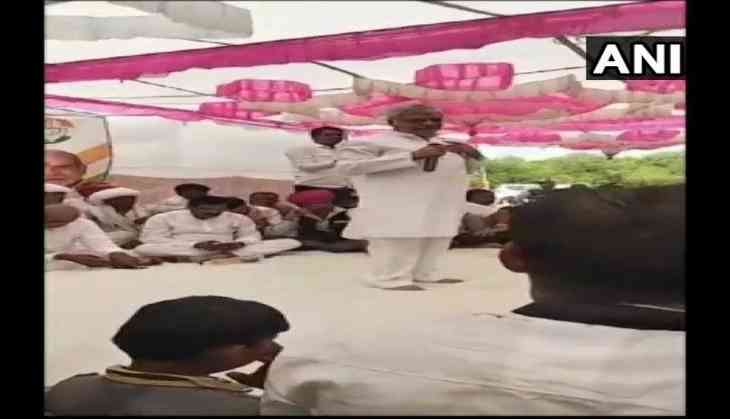 The comment by Congress leader CP Joshi on the "Brahmins" and the reactions by the Opposition leaders has led to a controversy, where president Rahul Gandhi has advised not hurt someone's sentiments.
CP Joshi was in Nathdwara of Rajasthan when he said that, "They say a Congressi can't be a Hindu, who gave them the authority to issue certificates? Have they opened a university? If anyone knows about religion then its pandits/brahmins."
Joshi hd later on added that "Uma Bharti is a Lodhi, and she talks about Hinduism, Modi ji talks about Hinduism. Its only Brahmins who don't talk about it. The country is being misled. Religion and governance are 2 different things. Everyone has the right to practice their religion."
Joshi had praised the works of Pandit Nehru and Sardar Patel, for unifying the nation and said that Patel never carried out any major decision without taking advice or clearance from Pandit Nehru.
He said, "Sardar Patel ji was in Pt Nehru's cabinet. Patel ji's unifying India project had support of Pt Nehru, he never did anything without Pandit Nehru's nod. But these ppl today spread misinformation that both of them did not get along."
Congress president Rahul Gandhi went into a damage control mode and tried to save CP Joshi from starc criticism by the BJP leaders and said that such statements does not toe the party's principle line and are hurtful by a leader with a stature like that of CP Joshi. Gandhi tweeted saying, "CP Joshi's comments are against the Congress party's principles. No party leader should make statements that hurt any section of the society."
Rahul added that "I am sure Joshiji has realized his mistake in view of the Congress's beliefs and workers' sentiment."
CP Joshi later on apologised saying, "Out of respect for the Congress's beliefs and workers' sentiment, I apologise if my comments hurt any section of the society."
Also read: MP Assembly Election 2018: Kamal Nath's assembly seat Chhindwara was demanded by Mayawati and the
Uma Bharti is a Lodhi, and she talks about Hinduism, Modi ji talks about Hinduism. Its only Brahmins who don't talk about it. The country is being misled. Religion and governance are 2 different things. Everyone has the right to practice their religion: CP Joshi, Congress https://t.co/dD3Umquyo4

— ANI (@ANI) November 23, 2018
सी पी जोशी जी का बयान कांग्रेस पार्टी के आदर्शों के विपरीत है। पार्टी के नेता ऐसा कोई बयान न दें जिससे समाज के किसी भी वर्ग को दुःख पहुँचे।

कांग्रेस के सिद्धांतों, कार्यकर्ताओं की भावना का आदर करते हुए जोशीजी को जरूर गलती का अहसास होगा। उन्हें अपने बयान पर खेद प्रकट करना चाहिए।

— Rahul Gandhi (@RahulGandhi) November 23, 2018