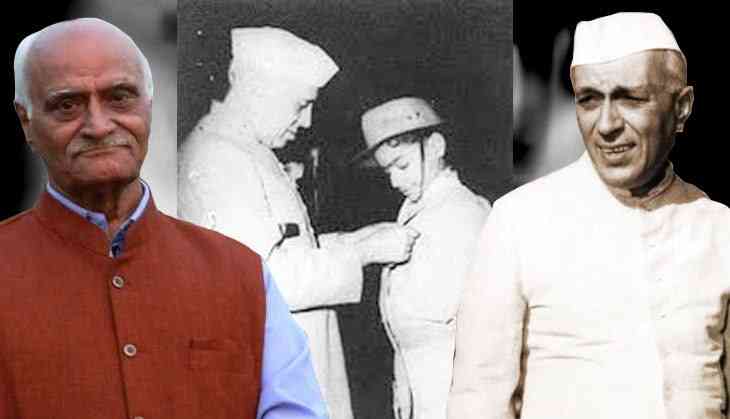 Harish Mehra and Pandit Nehru
'Without Nehru, India's history cannot be complete' says Harish Mehra, the man who once saved Pandit Nehru's life and became a living legend for other kids.
The story dates back to October 2 1957, when India's PM was sitting in the VIP canopy of Ramlila Maidan, with the foreign delegates and the occasion was Gandhi Jayanti.
At the age of 14, Harish was on the duty as a scout, as he was the son of a freedom fighter and Pandit Nehru and the delegates were watching the Ramlila from the VIP canopy.
And all of a sudden, the VIP area caught fire and people started to panic and full scene of chaos and stampede was created in the Ramlila Maidan. It was then, when Harish decided to take full control over the situation and risked his life to save Pandit Nehru.
He ran inside the VIP shamiyana and escorted Nehru to a safe zone. As per the official statement, "Harish ran back into the inferno, climbed a 20-foot pole and, with his scouting dagger, cut off the burning cloth. As a result, his hands were severely burnt."
With Harish's bravery, the life of India's first prime minister was saved in an unprecedented event that happened at Ramlila Maidan.
The act of bravery carried out by Harish didn't go unnoticed. He was awarded with India's first National Gallantry Award. And it was Indira Gandhi, who herself visited Harish's school to give him the news that prime minister would like to award him for the bravery he showed during the incident.
Harish Mehra said that on February 3 1958, in the Teen Murti Bhawan, "Indira Gandhi read out my commendation letter. After she finished, Nehru stood up and said, 'This man needs no introduction. I was a witness to his act of bravery,'" as reported by The Quint.
Also read: Children's Day Special: Shashi Tharoor's book on Pt. Jawaharlal Nehru to be made into web-series