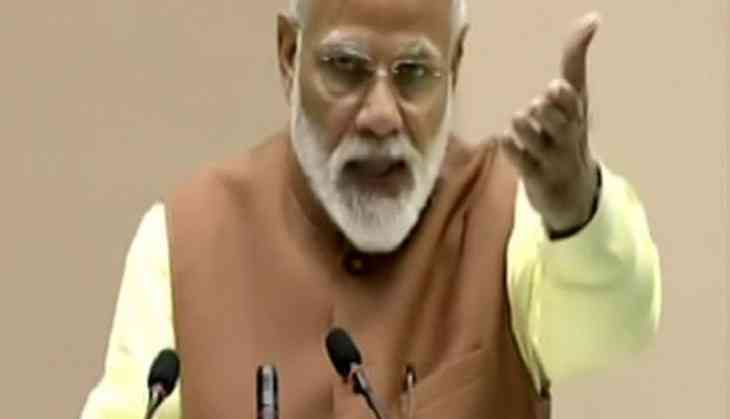 After IAF conducted aerial strike in PoK's Balakot, demands have been made by Opposition leaders and intellectuals for the evidence and PM Modi has got the answer, where in a rally he said, "130 crore are Indians are my proof."
While speaking at a rally in Ghaziabad, PM Modi attacked the Opposition for tuning in the tone of Pakistan and said that those who demand evidence are "appeasing Pakistan," he told the audience at the outskirts of Ghaziabad.
PM Modi said, "Is Pakistan stupid to do this (tweet)? The 130 crore people of India are my proof. Please stop appeasing Pakistan."
PM: Sabse pehle 5 baje tweet kar ke rone ka kaam Pakistan ne shuru kiya tha. Ab mujhe bataiye ki Pakistan murkh hai kya? Jo kahega ki mujhe mara, mujhe mara. Hamare log pooch rahe hain, 'arre mara hai toh saboot do'. Meherbani kar ke Pakistan ko khush karne wale khel band karo. pic.twitter.com/oCA4j3TN19

— ANI UP (@ANINewsUP) March 8, 2019
India had earlier conducted "pre-emptive non-military" air strike across the LoC at the terror camps of Jaish-e-Mohammad, by launching 1000 kgs of bomb with IAF Mirage 2000 fighter jet.
Although, the evidence is now being demanded even by the soldiers family when Ram Raksha, the sister of Ram Vakeel, a soldier from UP said, "Like in our case (Pulwama) we saw someone's hands, someone's limbs, we need to see something from the other side. Someone took responsibility for the bomb attack almost immediately. I am sure the strikes have happened but where have they done it? There should be clear proof. Until there is proof, how can we accept it? Pakistan says there is no damage to them so how can we accept it unless there is proof."
Reiterating about people's decision to elect him so as to give it back to the terrorist groups and not just keep quiet, PM Modi added, "When terrorists killed our 40 soldiers in Pulwama, should Modi also have kept quiet? If I had to behave the way previous governments did, why did the people elect me?"
Also read: Rajnath Singh mentions Lucknow incident, says 'Kashmiris are, were and will remain our people'