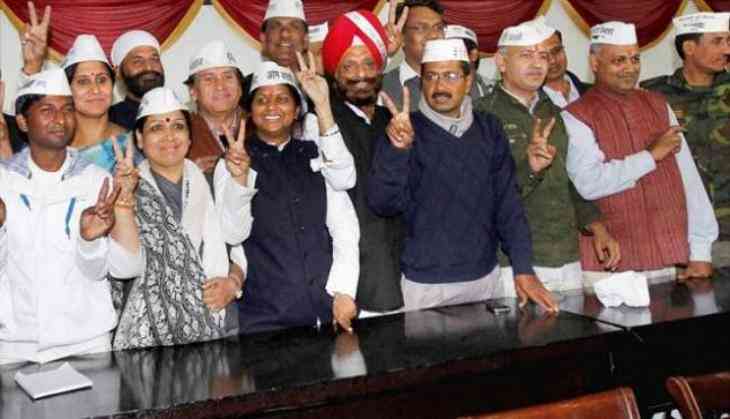 In the Office of profit case, 20 MLAs from Aam Aadmi Party have received big relief on Friday from the Delhi High Court. The High Court has cancelled the dismissal of 20 AAP MLAs. The High Court has said that the petition of the legislators will be heard again.
Delhi Chief Minister Arvind Kejriwal has expressed happiness on this decision of the court. Kejriwal tweeted that Justice has done and truth has won. He said that the representatives elected by the people of Delhi were falsely dismissed. Delhi High Court gives justice to people. He said that this is a big win for the people of Delhi. Congratulations to the people of Delhi.
A bench of Justice Sanjiv Khanna and Chander Shekhar had announced the judgement after the legislators, Election Commission of India (EC) and other parties had concluded their arguments.
The Election Commission had recommended President Kovind to disqualify these 20 MLAs. On January 21, President Ram Nath Kovind has approved the recommendation of the Chief Election Commission, to disqualify the 20 AAP MLAs, who were appointed as parliamentary secretaries by the Arvind Kejriwal-led government, after the Election Commission of India on January 19 had recommended for the same.
The AAP MLA's had moved to the High Court challenging their disqualification after President Ram Nath Kovind gave his assent to the EC's recommendation.
The membership of these AAP MLAs was disqualified
1. Jarnail Singh, Tilak Nagar
2. Naresh Yadav, Mehrauli
3. Alka Lamba, Chandni Chowk
4. Praveen Kumar, Jangpura
5. Rajesh Rishi, Janakpuri
6. Rajesh Gupta, Wazirpur
7. Madan Lal, Kasturba Nagar
8. Vijendra Garg, Rajinder Nagar
9. Avtar Singh, Kalkaji
10. Sharad Chauhan, Narela
11. Sarita Singh, Rohtash Nagar
12. Sanjeev Jha, Baradi
13. Som Dutt, Sadar Bazar
14. Shiv Charan Goyal, Moty Nagar
15. Anil Kumar Bajpai, Gandhi Nagar
16. Manoj Kumar, Kondly
17. Nitin Tyagi, Lakshmi Nagar
18. Sukhbir Dalal, Mundka
19. Kailash Gahlot, Najfgarh
20. Adarsh Shastri, Dwarka
Also read: Office of Profit: Delhi HC gives big relief to AAP MLAs, Kejriwal; MLAs were not given a chance to put their point says Saurabh Bhardwaj