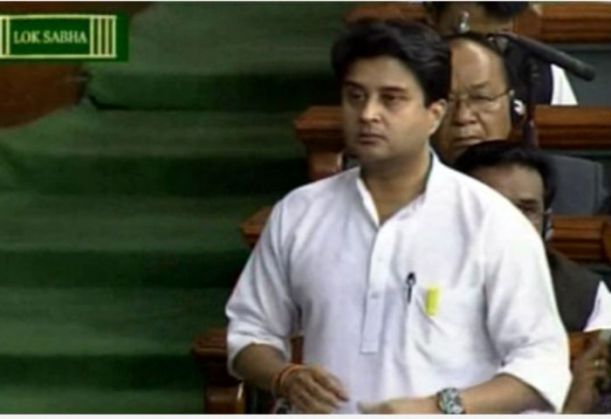 A list of words expunged from the nationalism debate in the Lok Sabha on Wednesday showed that Congress MP Jyotiraditya Scindia's references to the words Nathuram Godse, RSS and BJP MLA OP Sharma had been expunged, while the names of eight JNU students mentioned by HRD Minister Smriti Irani remained, reports The Indian Express.
Expunging words from Lok Sabha records can be done given several conditions stated in the Rules of Procedure and Conduct of Business in Lok Sabha, and also certain Constitutional provisions. However, in Wednesday's instance some of these conditions do not appear, at first sight, to have been met.
For example, Rule No 352 of the Rules of Procedure and Conduct of Business in Lok Sabha says that a member "shall not refer to any matter of fact on which a judicial decision is pending".
But Irani named the eight JNU students who are being investigated by the Delhi Police for their roles in a pro-Afzal Guru event on campus on 9 February during which anti-national slogans were reportedly made. The students have not yet been pronounced guilty in any court.
According to the official spokesperson of the Lok Sabha Secretariat, the names of the students were allowed to remain on record because, "The context in which the minister listed their names was relevant."
However the word RSS was expunged "because of the context of its usage and not the word per se."
MPs have freedom of speech in Parliament, but according to Article 105(2) of the Constitution, they cannot say anything against any individual or to use defamatory, indecent or unparliamentary words against anyone without giving advance notice, including to the minister concerned.
The Lok Sabha's Rule No 353 also states: "No allegation of a defamatory or incriminatory nature shall be made by a member against any person unless the member has given an adequate advance notice to the Speaker and also to the Minister concerned.."
And Rule No 380 states: "If the Speaker is of opinion that words have been used in debate which are defamatory or indecent or unparliamentary or undignified, he may, in his discretion, order that such words be expunged from the proceedings of the House."
Therefore, references to BJP MLA OP Sharma were expunged from the record. Sharma had assaulted an activist at Patiala House Courts last week when lawyers went on the rampage before the bail hearing of JNU student leader Kanhaiya Kumar who had been charged with sedition.
Ten references to Sharma were expunged from Scindia's speech on Wednesday.