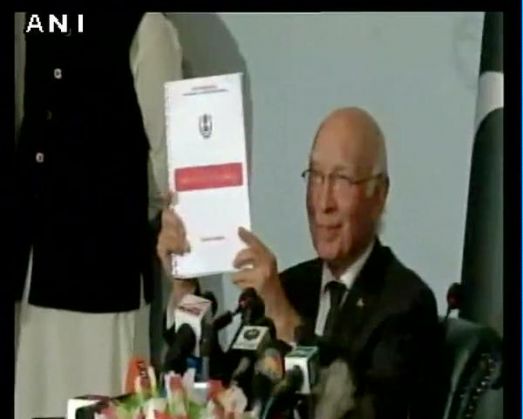 Having exposed them, Pakistan continues to punch India's sore spots. It has revealed India's confused policies towards discussing Hurriyat and Kashmir, and has gone one pressing these issues.
NSAs of India and Pakistan were supposed to talk on the coming Monday and Tuesday to allow a peace process to begin.
What has happened in the last 72 hours, thanks to the impulsive diplomacy by Modi government, is that Pakistan has shown India running away from those talks and hence from prospects of peace.
Even before the childish, reactive diplomacy between the two countries began to show, India was playing with a handicap. Declaring foreign secretary level talks with Pakistan prematurely and then calling them off last year, gave Pakistan an upper hand.
Now it is not surprising that Pakistan is building pressure on Modi government to call the talks off again, to embarrass India in the international community.
It is a game of perceptions at the world stage. Pakistan and India were addressing not just their constituencies but the world communities through their press conferences in the last 36 hours. And pressure to talk is on both of them.
US has put all its weight on Pakistan to demonstrate its intent of dealing with terror. Talks with India would've eased some of that pressure.
For Modi government, which recently scored a minor victory by signing an anti terror agreement with UAE, which till recently was counted by Pakistan as its ally, could have pressed its advantage further by hosting these talks.
The talks, at the moment, are unlikely to happen. If they don't, Pakistan will come out quite clearly as the winner of this diplomatic wrangle.
How this has happened, is that Pakistan has cornered India and made itself tie up in knots, by demanding a discussion on Kashmir and holding talks with Hurriyat.
What India has basically done is to detain Hurriyat leaders, release them, detain them again, release them only to detain them again. This is true at least in the case of separatist leader Shabir Shah who was arrested in Delhi on Saturday morning, after being repeatedly detained and released in Srinagar.
While its alliance partner in J&K has a thought out policy on Hurriyat, which is to let them talk, BJP hasn't been able to decide exactly what to do with the separatists.
Pakistan has also managed to show India as setting preconditions for talks, through its reluctance in talking about Kashmir, while Pakistan itself comes out as a party willing to talk about anything under the sun.
Its NSA Sartaj Aziz rubbed salt into Indian wounds by "hoping to meet" Indian NSA on the sidelines of UN general assembly to talk.
India will not only face flak if the talks fail, it will soon come under heavy criticism by detaining Hurriyat leaders and curtailing their human rights.
Pakistan's reluctance in participating in the NSA level talks was already clear. By shelling Indian territory across Line of Control and International Border, and by facilitating entry of terrorists in India, Pakistan had made its intent clear. Or at least its army did.
India, by not being able to anticipate the absolute basics with Pakistan, has made a mockery of itself.
What now remains to be seen is how Sushma Swaraj reacts to Aziz's conference. She has to say more than what her foreign secretary said last night.
India cannot afford to call the talks off, and now having dealt with the separatists the way they have, India cannot let them meet Pak NSA as well to agree to the talks.
In less than an hour and a half we will know.