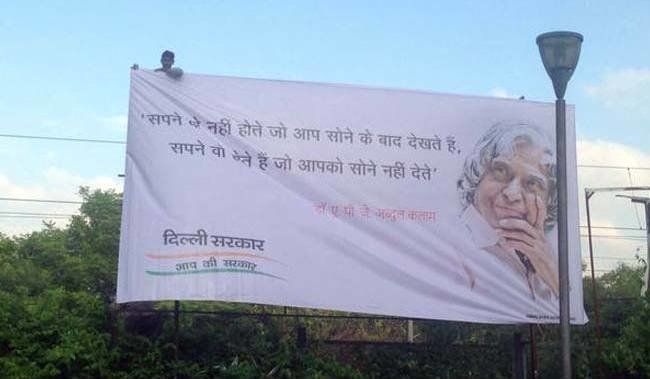 A day after Delhi High Court slammed the Aam Aadmi Party (AAP) for violating the Supreme Court guidelines which banned politicians from wasting taxpayers' money to promote their own interests, AAP has found a new way to advertise itself.
It put up new banners in the capital with quotes from the late former president APJ Abdul Kalam and the AAP's logo at the end.
The Delhi government had earlier ordered the removal of AAP's ads which had accused the central government and Prime Minister Narendra Modi of hindering their work. AAP said they withdrew those ads so they could pay tribute to Kalam.
The advertisement issue
The Delhi government is running an extensive advertising campaign through the media of TV, radio, banners, posters, etc. The party has revealed that it has allocated more than Rs 500 crore for advertising in its budget.
Congress
leader Ajay Maken filed a writ petition in the Delhi High Court accusing AAP of misusing public money.
The Division Bench of Delhi High Court, while hearing Maken's petition, ruled that the AAP government must provide all details of the money being spent and the source of expenditure on advertisements glorifying either the party or the Chief Minister.
Maken's petition argues that the party is wasting public money in promoting its work in Chennai and Mumbai - cities that have nothing to do with the policies of the national capital.
The AAP government claimed in court that it was using these advertisements to spread awareness about its schemes.However, the banners with Kalam's quote do not appear to serve much purpose.
Deputy Chief Minister of Delhi Manish Sisodia had accepted that Delhi is facing an estimated fiscal deficit of Rs 4,500 crore when his party assumed power.
A few days ago, Delhi CM Arvind Kejriwal stated that the party had run out of money and made a public appeal for donations.
AAP is to submit its response in the high court on 2 October, after which the court will pass judgment in the case.