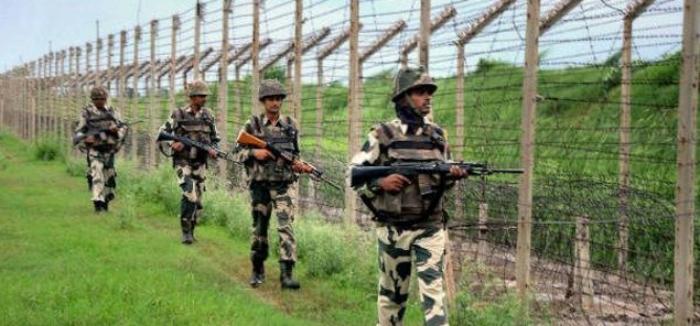 The Border Security Force (BSF) said it was not privy to any "specific" intelligence input about the militant strike in Udhampur on a bus ferrying 44 unarmed personnel that had got "isolated" from a convoy with the lone armed soldier on board staving off the attackers who tried to enter the vehicle.
Border Security Force chief Devendra K Pathak, who travelled to the ambush site yesterday after the attack, said the area on Jammu-Srinagar highway was considered "relatively safe" as there had not been an attack like this in the last two decades.
He said the lone armed trooper inside the bus, constable Rocky (25), retaliated very bravely and effectively to stop the militants from entering the bus and saved the other men."There was no specific input (indicating the attack).
There has been no incident in this area for about 20 years but that does not mean that something will not happen in the future. But, relatively this area was considered safe and we did an effective retaliation," the BSF Director General said while interacting with journalists here.
He praised the gallant action by Rocky who gave the supreme sacrifice to save 44 unarmed BSF men present inside the bus who were either going on leave or joining back on duty.
The DG said the attack occurred when the convoy of over a dozen vehicles was moving from their transit camp in Jammu to Srinagar and the dark-green BSF bus, that came under attack, got "isolated" from other vehicles.
"Suddenly, one weapon-wielding militant came right in the middle of the road targeting and firing (at the bus) and signalling us to stop. The driver got the first hit and wa injured and the vehicle started going down (the hilly road).
In the meantime, the militant came on the side of the bus and deflated the tyres of the bus and then he came around and tried to enter the bus and open the door which was locked," Pathak said. Had the militant entered the bus, Pathak said, there would have been many causalities.
The DG said that Rocky neutralised one terrorist and forced the other to flee the spot as he was sitting on a hilly feature at a distance and firing a "volley of bullets" to aid his associate."The militant was firing from one hand and holding grenade in the other and had he been successful in lobbing the grenade inside the vehicle, there would have been many causalities. The grenade exploded outside the bus and its splinters caused injuries to the troops sitting inside," he said.
The BSF chief said he would not like to draw any conclusions or similarities between the terror incident of Gurdaspur in Punjab on July 27 and the one that occurred yesterday."It's too early to draw any conclusion.... It's an isolated incident. We cannot draw any conclusion. I take it as an isolated incident," he said. .
-PTI