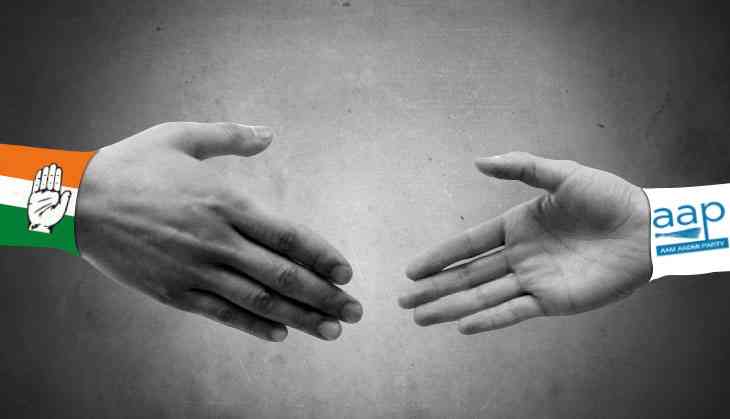 After a high political drama over alliance with the Aam Aadmi Party, the Congress is now set to go alone in the Lok Sabha polls in Delhi and are set to announce the candidates for the seven seats today.
The Aam Aadmi Party, which was seeking to forge an electoral alliance with the Congress, in order to defeat the BJP so that the vote doesn't get divided has ended up on a roadblock and the grand old party is all set to assign the candidates for the election today.
The formula of 4-3 seats being offered officially by Congress president Rahul Gandhi could not go down well with the AAP, which had interestingly sought the same formula. As per media reports, AAP MP Sanjay Singh held final talks with the Congress delegates but the ice cube has not been dissolved between the two parties yet. A fear of the Assembly election looms large, which is slated to happen in 2020.
An alliance between the Congress & AAP in Delhi would mean the rout of the BJP. The Congress is willing to give up 4 Delhi seats to the AAP to ensure this.

But, Mr Kejriwal has done yet another U turn!

Our doors are still open, but the clock is running out. #AbAAPkiBaari

— Rahul Gandhi (@RahulGandhi) April 15, 2019
AICC in-charge of Delhi P C Chacko, in a statement to the Indian Express, said "They agreed for a Delhi-specific 4-3 seat-sharing pact Wednesday night. I met AAP's Sanjay Singh. This morning, they contacted me and said they are going for a meeting convened by Chief Minister Arvind Kejriwal and asked me about the Congress's views on full statehood for Delhi. I conveyed to them that we are in favour of full statehood."
The political corridors of Delhi have been humming with the alliance talks but the final take could not go through yet sources of both the parties say that the chances and meetings are still on.
Also read: BSP supporter cuts off his finger in UP after voting for BJP by mistake