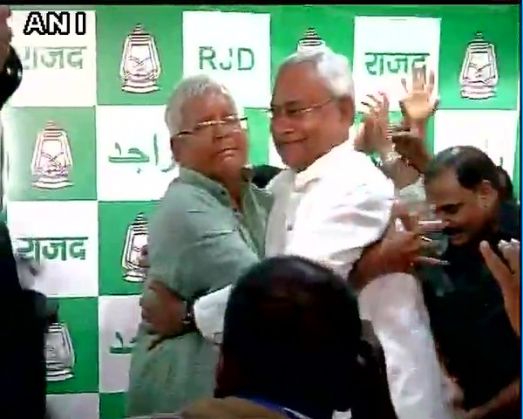 After the grand alliance's landslide victory in the Bihar Assembly polls, Bihar Chief Minister Nitish Kumar and Rashtriya Janata Dal ( RJD) supremo Lalu Prasad Yadav greeted and hugged each other.
Nitish also came out of his residence and waved at the supporters, as applause and wishes poured in for him.
Former Jammu and Kashmir chief minister and National Conference leader Omar Abdullah also congratulated Nitish Kumar, saying this victory will prove critical for the nation in the days ahead.
"Heartiest congratulations on a well deserved victory @NitishKumar sahib. It was the BJP, not Nitish, that made this election a referendum on the Modi Govt. They have to live with the results, win or lose," Omar tweeted.
Karnataka Chief Minister Siddaramaiah congratulated the team of Nitish, Congress president Sonia Gandhi and Lalu Prasad Yadav for the victory.
"The election was projected as a political war between Prime Minister Modi and Nitish Kumar. Nitish Kumar has won this battle," Siddaramaiah told the reporters here.
Prime Minister Narendra Modi also congratulated Nitish Kumar over phone.
"Just received a phone call from the Prime Minister congratulating me. Thank you Modiji," Nitish tweeted.
The Bharatiya Janata Party, however, put up a brave face and accepted the people's mandate as Prime Minister Narendra Modi and party president Amit Shah wished Nitish.
The Mahagathbandhan is leading in 168 seats while the BJP-led NDA is ahead in 67 seats.
(ANI)