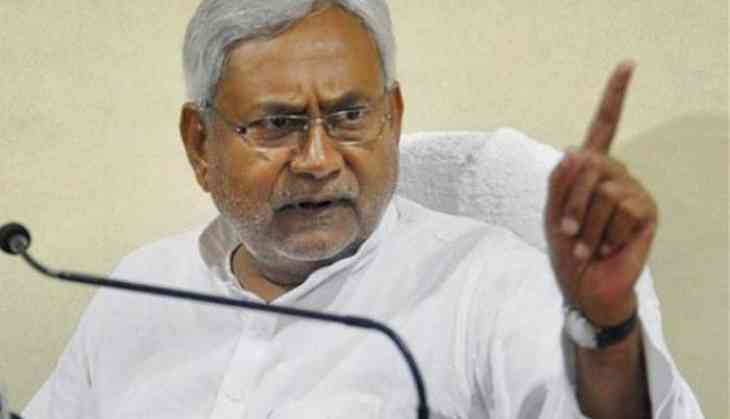 In a major turn of events in Bihar, Chief Minister Nitish Kumar on 26 July has resigned from his post and he also submitted his resignation to governor Keshari Nath Tripathi.
According to television news reports, the CM went to Raj Bhavan to meet acting Governor Keshari Nath Tripathi on Wednesday and submitted his resignation.
"Even a mere explanation did not come. The situation had become such that we were not able to work", says Nitish after submitting his resignation.
The development came hours after Rashtriya Janata Dal (RJD) chief Lalu Prasad Yadav earlier in the day took a jibe at Nitish Kumar, saying he was aware of his longtime friend's party's - Janata Dal (United) (JD(U)) - growing bonhomie with the Bharatiya Janata Party (BJP).
Meanwhile, Prime Minister Narendra Modi took on Twitter and has written in favour of Nitish:
भ्रष्टाचार के ख़िलाफ़ लड़ाई में जुड़ने के लिए नीतीश कुमार जी को बहुत-बहुत बधाई।
सवा सौ करोड़ नागरिक ईमानदारी का स्वागत और समर्थन कर रहे हैं

— Narendra Modi (@narendramodi) July 26, 2017
देश के, विशेष रूप से बिहार के उज्जवल भविष्य के लिए राजनीतिक मतभेदों से ऊपर उठकर भ्रष्टाचार के ख़िलाफ़ एक होकर लड़ना,आज देश और समय की माँग है

— Narendra Modi (@narendramodi) July 26, 2017
Lalu also gave a pointed reminder that his party has the most number of seats in the legislature.
Addressing a press conference, he also said, "I made him the Chief Minister," however, asserting that all was well with him.
The CBI registered a corruption case against Lalu Yadav, his wife Rabri Devi and son Tejashwi Yadav on allegations of awarding the tender for development, maintenance and operation of hotels in Ranchi and Puri in 2006.
The RJD supremo, however, had refuted the allegations against him and called it a political conspiracy hatched by the BJP.
Since then, the BJP had been mounting pressure on Nitish to oust Tejashwi Yadav from the party.
Various internal meetings in the JD(U) and the RJD has also been taking place, every now and then, fuelling the reports and rumours that Tejashwi would soon quit the Cabinet.
The RJD, including Tejashwi himself and Lalu Yadav, had been asserting that Tejashwi would not resign, come what may.
-With ANI inputs.