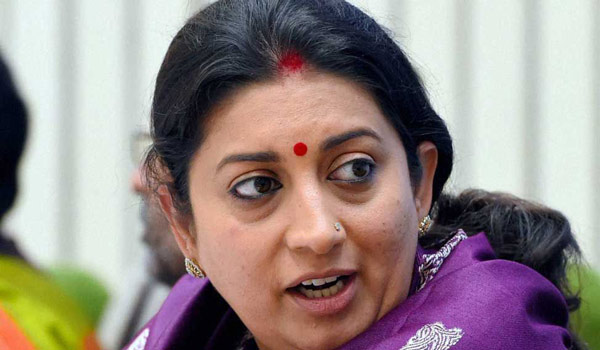 Asserting that the safety of the students at the National Institute of Technology (NIT) in Srinagar was her prime concern, Union Human Resource Development (HRD) Minister Smriti Irani on Wednesday said that her ministry officials are in the varsity campus to ensure that all of their issues are looked into.
"Law and order is a state subject. I have spoken to Mehbooba Mufti, she has assured me that students are safe there and that a division level inquiry has been initiated. Some students are worried about their mark sheets. HRD officials are in the campus and they have spoke to over 500 students," Irani told reporters in Surat.
"Our officials are there to extends all possible help to students, they will stay there the exams are over," she added.
Meanwhile, a two member central team from the Union Human Resource and Development (HRD) Ministry reached the NIT in Srinagar today to take stock of the situation after tension gripped the campus.
The team comprising Director Technical Education of the HRD Ministry and an Under Secretary-level HRD officer interacted with the students at the varsity.
The team will assess the situation and hold deliberations with the divisional administration, senior police officials and NIT authorities.
On Friday last, the campus had witnessed clashes between local and outstation students over India's defeat in the semi-final match in the World T20 tournament.
After the clashes, the NIT authorities had shut down the institute which was reopened yesterday.
However, things again turned ugly with outstation students expressing a sense of insecurity and attempting to leave the campus. This led to a confrontation with police which resorted to lathicharge in which some were injured.
Some engineering students from outside the state claimed Kashmiri students had chanted anti-India slogans and burst firecrackers after India's defeat.
(With inputs from ANI and PTI)