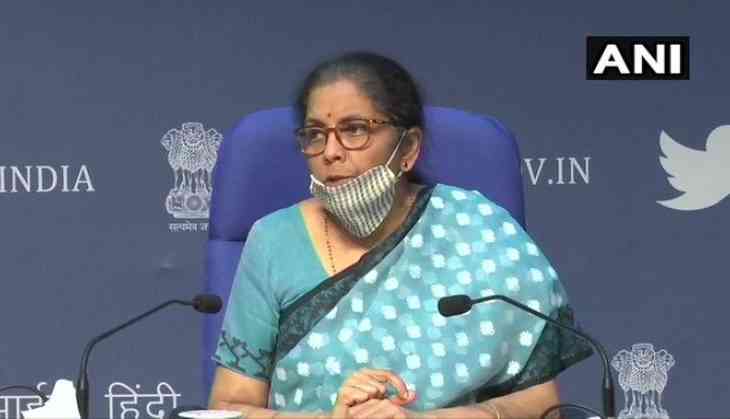 Finance Minister Nirmala Sitharama is giving an address to the media in order to share details of the Rs 20 lakh crore economic package set forth by Prime Minister Narendra Modi on Tuesday, to tackle the effect of Covid-19 and lockdown on the economy.
Nirmala Sitharaman's address comes at a time when the nation remains in a lockdown with few exceptions to check the spread of the virus. The Covid enkindle lockdown has pushed an already weak economy into a halt, crippling businesses and industries.
Here's what Finance Minister Nirmala Sitharaman said:
1) This is to stimulate growth and to build self-reliant India
2) Ministries held detailed talks with industries and PM's Office on economic package
3) Prime Minister Narendra Modi has put out a comprehensive vision, which is rested on wide and deep consultations with many sections of society
4) Main focus to be on factors of production such as land, labour, liquidity and law
5) Local brands to be brought to global level
6) Focus will be on nurturing local brands
7) Global value chain integration part of PM Modi's plan
8) All schemes rolled out by government after it came to power are driven by reforms
9) Direct Benefit Transfer (DBT) scheme helped government deliver money directly to Jan Dhan accounts of the poor
10) Rs 52,606 crore transferred to 41 crore Jan Dhan account holders under PM Garib Kalyan scheme
11) Starting today, I will put out details of PM Modi's Vision over next few days
12) Refunds of Rs 18,000 crore made to income tax assessees, 40 lakh taxpayers benefitted
13) Government to put out 15 different measures
14) FM Nirmala Sitharaman lays out collateral-free loans worth Rs 3 lakh crore for MSMEs with turnover up to Rs 100 crore till 31st October, 2020
15) Move to benefit 45 lakh units so they can start their businesses
16) Definition of MSMEs being revised in their favour, investment limit to be revised upwards, additional criteria of turnover also being introduced,"
17) Company with investment of Rs 1 crore, turnover of Rs 5 crore is a micro enterprise under new definition; one with Rs 10 crore investment, turnover of Rs 50 crore a small enterprise; one with Rs 20 crore investment, Rs 100 crore turnover a medium enterprise
18) Global tenders to be disallowed in government procurement up to Rs 200 crores. "This will make self-reliant India, will also then be able to serve 'Make in India' cause,"
19) The govt and Central Public Sector Enterprises will honour every MSME receivable in the next 45 days,
20) Rs 50,000 crore equity infusion for MSMEs through Fund of Funds; to be operated through a Mother Fund and few daughter funds; this will help to expand MSME size as well as capacity.
21) Govt support in form of 12% employer and 12% employee contribution extended for another three months, June, July and August (government to pay employee, employer contribution to EPF accounts)
22) Support towards months March, April, May already laid out as part of PM Garib Kalyan scheme, that scheme is being prolonged for another three months (June-August)
3,67,000 organisations to profit.
23) Lays out Rs 30,000 crore liquidity push for non-banking financial companies (NBFC), housing finance companies (HFC), microfinance institutions (MFI)
24) In a major relief to contractors, all central government agencies to provide an extension of up to 6 months, without cost to contractor, to obligations like completion of work covering construction and goods and services contracts.
25) Nirmala Sitharaman also announced Rs 90,000 crore liquidity injection for Power Distribution Companies (DISCOMs).
26) Income tax return assessment due date for FY 2019-20 stretched out from 31st July and 31st October to 30th November; tax audit date from 30th September to 31st October
Also Read: Self-Reliant India Mission: Only indigenous products to be sold at CAPF canteens from June 1, says Union Home Minister