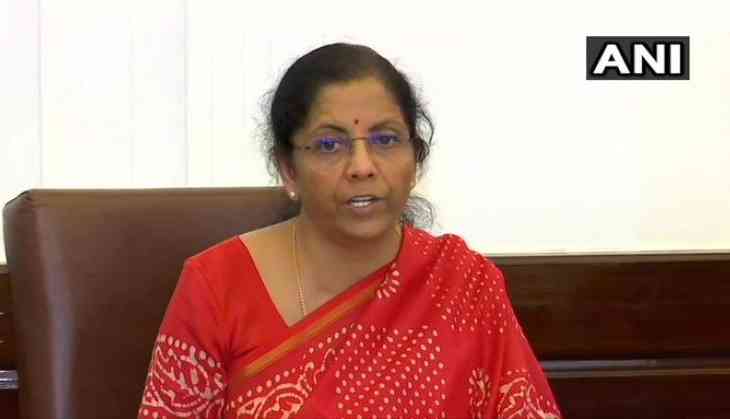 Union Finance Minister Nirmala Sitharaman on Tuesday announced relief measures for businesses and taxpayers to back the battle against the coronavirus as the country entered a second day of lockdown.
Nirmala Sitharaman stated that the final day for filing tax returns for fiscal year 2018-19 stands extended to 30th June, and also announced 30th June as the new date for compulsory filing of Aadhaar with Permanent Account Number (PAN). "Debit card holders withdrawing cash from any bank ATM will now be able to do it free of charge for a period of three months," She said while talking to the media.
The Finance Minister's announcement came as several cities and not less than 75 district across the nation began a second day of lockdown to fight the spread of the pethogen, closing down businesses and interrupting day to day life.
The Finance Minister also stated that the government is working on an economc package and an announcement in this matter will be made soon. "The country is abiding by the Prime Minister's call for staying at home to fight against the coronavirus," She added.
Here are things what Nirmala Sitharaman said:
1) For financial year 2018-19, last date for filing income tax return extended to June 30, 2020
2) Interest rate on delayed payment cut to 9% from 12%
3) Due date for linking Aadhaar with PAN extended from March 31 to June 30
4) Tax dispute resolution scheme Vivad Se Vishwas extended by three months to June 30
5) Those availing Vivad Se Vishwas scheme will not have to pay 10% interest on principal
6) Due dates for issuing various notices under Income Tax Act extended
7) Interest rate for filing a delayed return brought down
8) Last date of filing March, April, May GST returns, composition returns extended to June 30
9) No interest, no penalty, no interest late fee for filing delayed returns for companies with turnover up to Rs 5 crore
10) In respect of MCA 21 registry, moratorium being issued till September 30, 2020
11) No additional fees for late filing
12) Mandatory requirement for companies to hold board meetings, which government has decided to relax for next two quarters
13) If no board meeting held for 2019-20, it will not be considered a violation
14) Raising threshold for default under Insolvency and Bankruptcy Code (IBC) to Rs 1 crore
15) Debit card holders withdrawing cash from any bank ATM can do it free of charge for three months
16) Today's moves under special task-force constituted by government recently to tackle Covid-19 outbreak
17) Sebi has come up with few guidelines to address volatility, instability in financial markets
18) Government monitoring financial markets thrice a day; closely monitoring situation
Also Read: Coronavirus: India has tremendous capacity in eradicating pandemic, says WHO
Also Read: Governments can sue China before international tribunals for false information about coronavirus