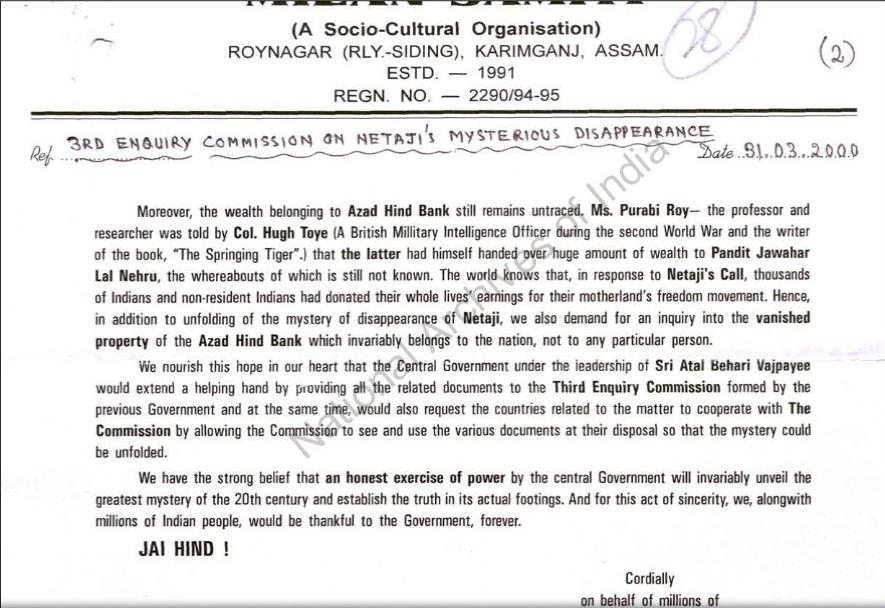 This file deals with communication seeking clarity on Netaji's death and the government of India's willingness to push the investigation further.
Mostly letter and communication regarding the inquiry into the death of Netaji. - SS Yadav of INA writing to S K Nelson ( National Secretary of Minority cell of BJP)
He says that the successive governments (Congress) have been putting the issue on a buck burner. Asking him to making a request to the Prime Minister to bring the ashes of Netaji from Japan.
Nelson writes back to INA saying that he has put a request with Japan Embassy for bringing the ashes and to the Indian government in order to not interfere in bringing the ashes of the leader.
- M B Chandra of INA writes to Atal Bihari Vajpayee (the then Prime Minister) criticising him for paying a tribute to Netaji (2 Feb 2000)- Debrata Biswas (MP, General Secretary of Netaji Probe and research foundation) (27 Jan 2000) criticises Vajpayee for making a statement that his government is willing to bring back the ashes of Netaji from the Renkoji Temple in Japan. Biswas said that it was a contempt of the Mukerjee commission.
- Vajpayee clarified in a letter that there is no immediate proposal from the government to bring the ashes back from the temple (Feb 2, 2000)
- Vajpayee also said that the findings of the commission will be considered by the government.But further in another letter Biswas said that he was happy that the government is not insisting on bringing the ashes (5 Feb 2000).
- Prabal Kanti Sen, general secretary, Milan Smiti writes to Vajpayee appreciating for formation of a third commission and criticised the previous governments for the failure of the Shahnawaz and Khosla commissions to make a substantial progress in the Netaji's case. (8 Apr 2000)
- Milan Smiti also questioned the whereabouts of the Azad Hind Bank to which a number of Indians donated money after the call of Subhash Chandra Bose.
Netaji Papers revealed: What happened to the money deposited in the Azad Hind Bank?