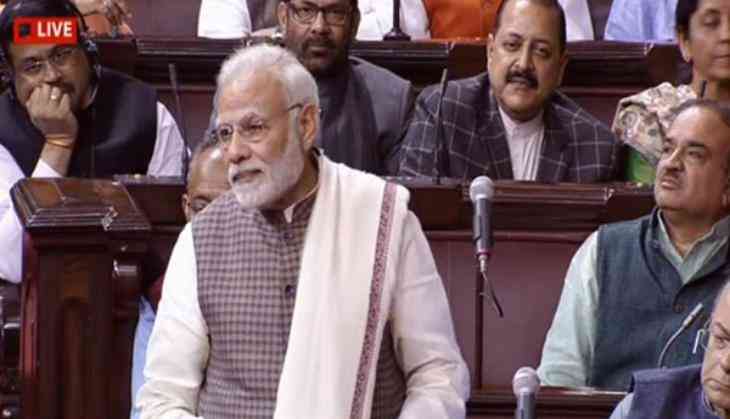 Prime Minister Narendra Modi on Wednesday continued his tirade against the Congress Party.
While addressing the Rajya Sabha, he recalled Mahatma Gandhi and said that the latter, post the independence, wanted the Congress party to dissolve.
"You need Mahatma Gandhi's India, even I want Mahatma Gandhi's India. Gandhi ji post the independence had said that 'now the country is free, the Congress must be dissolved'," said Prime Minister Modi.
"We want Mahatma Gandhi's India. Even the Congress wants [Indira] Gandhi's India - India of Emergency, Bofors and chopper scams," he added.
Accusing the Congress party of not wanting to be a part of the 'New India', he said that the people (Congress) sitting here "need that India where there is an emergency... you need that India where there is tandoor case... you want the India where Sikhs are killed. you need that India, where Bhopal gas tragedy accused are set free."
Further, cornering the grand old party for referring the Bharatiya Janata Party (BJP) as mere 'name changer', the Prime Minister asserted that his government is not only 'game changer' but is also an 'aim changer'.
"You said we are Name Changers and not Game Changers but if you notice our mode of operation and working pattern you will realise we are Aim Changers. We plan our action, set the roadmap so that we take the nation on the path to development," he added.
The Prime Minister, earlier in the day, during his speech in Lok Sabha, hit out at the Congress party on various issues.
--ANI