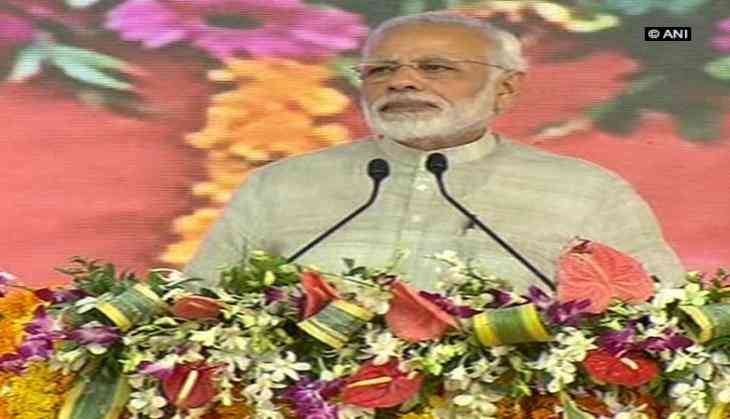 Prime Minister Narendra Modi on 7 October claimed that his government has been successful in bringing waters of the Narmada River to villages.
Addressing a rally in Rajkot, Prime Minister Modi said, "The definition of development is changing. Earlier, a hand pump would be put and a leader would use that for multiple elections. Things have changed now. We are bringing the waters of the Narmada here for the benefit of citizens."
He added that because of the Narmada waters, new employment opportunities will come up in Surendranagar and it will also become an important place for education.
He asserted that drip irrigation can be adopted in Surendranagar, with the help of the Narmada.
"If Surendranagar adopts drip irrigation, one cannot imagine the scale of development, and thanks to the Narmada, that will happen," said the Prime Minister.
Describing Gujarat as a "water scarce state" that needs to be revolutionised, Prime Minister Modi said that, "By 2022, make a pledge to revolutionise agriculture by bringing micro-irrigation in agriculture."
On aviation for Rajkot he said, "Our government has made policies of aviation and taken responsibility to connect the smallest of places by air."
He also said that his government has made aviation affordable and within the reach of the less privileged.
Speaking about Rajkot Airport, which he had inaugurated today, Prime Minister Modi said that the government needed only four percent of farmland for the airport.
"We need to take only four percent of land from farmlands for this airport. Ninety six percent of barren land has been taken for this so far," he said.
He said the day is not far when Rajkot Airport will offer international services.
Foundation stone for the greenfield was laid airport at Hirasar in Rajkot district.
On Sunday, Prime Minister Modi will visit his birthplace Vadnagar in Mehsana district. He will inaugurate a medical college and a hospital having a total bed capacity of 650.
He will also launch the Intensified Mission Indradhanush to accelerate progress towards the goal of full immunization coverage. The mission will provide greater focus on urban areas and other pockets of low immunization coverage.
The Prime Minister will also distribute e-tablets to health workers to mark the launch of ImTeCHO (Innovative mobile-phone Technology for Community Health Operations).
ImTeCHO is aimed at improving the performance of community health workers ASHAs (Accredited Social Health Activists) through better supervision, support and motivation for increasing coverage of proven maternal, newborn and child health interventions among resource-poor settings in India.
The same afternoon, the prime minister will reach Bharuch and lay the foundation stone for Bhadbhut Barrage, to be built over the Narmada River.
He will also flag off the Antyodaya Express between Udhna (Surat, Gujarat), and Jaynagar (Bihar). Mr Modi will also unveil plaques to mark the laying of foundation stone, and the inauguration of various plants of Gujarat Narmada Fertilizer Corporation. He will also address a public meeting there before returning to Delhi.
-ANI