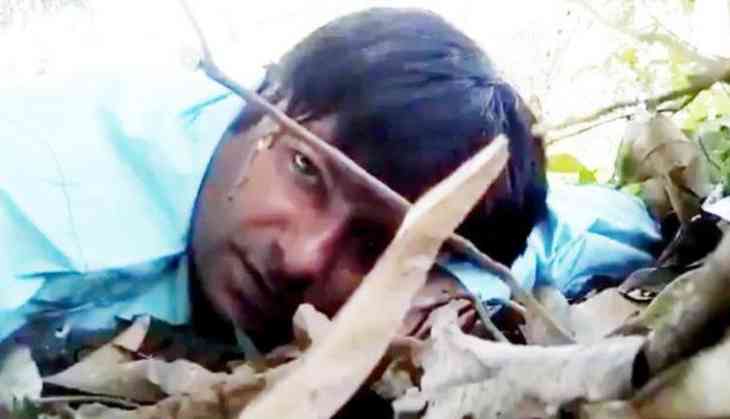 Naxal attack in Chhattisgarh has shocked everyone as the Doordarshan (DD) staffer, two police lost their lives in the attack on Tuesday in the middle of the Dantewada forest in Chhattisgarh. However, the most heart-wrenching moment comes to light when the recorded video went viral from the Naxal attack and left social media users teary-eyed.
In the video, a man lying on the ground and recorded a message on his mobile phone and also, the sound of gunfire can be heard in the video.
In the attack, DD cameraperson and two policemen died. However, as soon as this video come to light then, many people misunderstood it and thought that it was the last message of the DD cameraman Achyutanand Sahu, who died in the firing between Police and Naxals. Also, people started paying homage to his family.
But, now, a shocking news has come to light that the man who recorded the video was not dead. As per the reports of India Today, the man, to whom people were paying homage was not the one who lost his life.
Yes, it was not Achyutanand Sahu in the video, it was his colleague, assistant cameraman Mormukut Sharma, who recorded the video. However, Sharma survived the attack. Sharma is a camera and lighting assistant, who was always travelling with the DD team when it came under attack.
People on social media as well as national media felt emotional after watching the video. As the man recorded his last words for his mother after struck between the attack.
He said that "Mammi mein tumhe bahot pyaar karta hun... ho sakta hai mein iss hamle mein maara jau (Mom, I love you...I might die today)..he also said that Pata nai kyun maut ko saamne dekh dar nahi lag raha hai (somehow I am not scared even though I am facing the death).
As this video released, it has been also shared on the Facebook page of Punjab Kesari in which it was said that 'this is the last moments of the DD cameraman who killed in the Naxal attack.'
Even the senior journalist Ajit Anjum also posted the video on Twitter and he also thought that it was the last recorded words of the journalist, Achyutanad Sahu.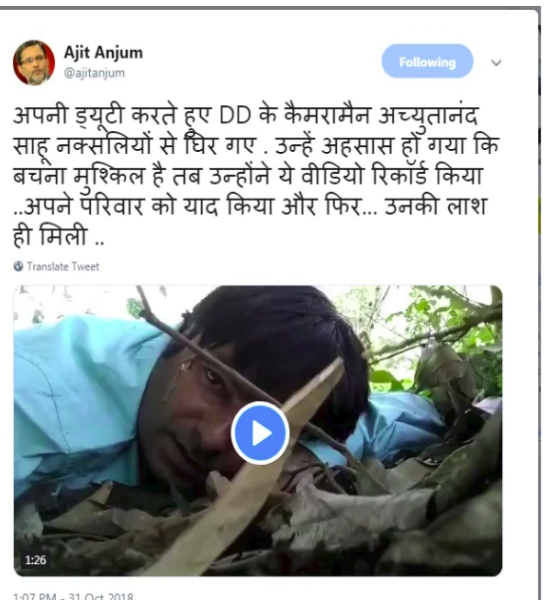 Later, he realised for sharing wrong information and deleted his tweet.
Meanwhile, India Today has shared the video of the man who recorded a video and he is completely fine. In the video, Sharma has cleared the confusion about his identity.
See video:
मैं जिंदा हूं !
ये हैं #दूरदर्शन के असिस्टेंट कैमरामैन #मोरमुकुटशर्मा, जिन्होंने #नक्सली हमले के दौरान भी जमीन पर लेटकर वीडियो बनाया. हमले में इनके वरिष्ठ साथी #अच्युतानंदसाहू की मौत हो गई. लेकिन लोगों ने मोर मुकुट की बहादुरी को सलाम करने के साथ ही उन्हें श्रद्धांजलि भी दे डाली pic.twitter.com/80TCUfCpI9

— Balkrishna (@bala3047) October 31, 2018
Watch Video:
Also read: Watch: 'Mom I may die today...' DD journalist records emotional video for his mother in the midst of Naxal attack in Chhattisgarh's Dantewada