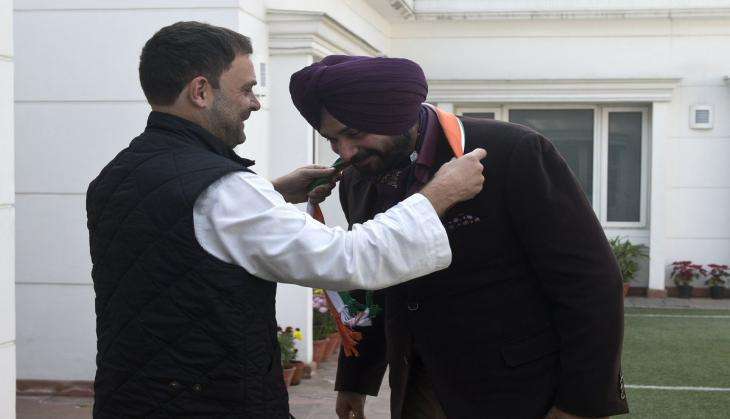 Former Bharatiya Janata Party (BJP) leader Navjot Singh Sidhu on Sunday officially joined the Congress Party ahead of the Punjab Assembly polls
Punjab Congress in-charge Asha Kumari, who confirmed this to ANI, said Sidhu met party vice-president Rahul Gandhi at the latter's residence here and formally joined the grand old party.
According to sources, Sidhu had expressed his desire to join the Congress in Rahuls presence, but had to change his dates as the party vice-president was out of the country.
This political development comes months after the cricketer-turned politician's wife Navjot Kaur joined the Congress.
Navjot Kaur had earlier this month said that either she or her husband would contest the Punjab elections.
"We don't have anything in mind. We only want to work for the welfare of Punjab. One out of us (Navjot Kaur and Navjot Sidhu) is going to contest the upcoming election, for sure," Kaur said.
She also said that Sidhu would campaign in all the 117 assembly constituencies in the poll-bound state.
"We have to help to develop every sector of Punjab, be it industry or agriculture. Ours is a golden state and we have to make it number one state in the country," she said.
According to reports, the Congress is planning to field Sidhu against the Badals in the upcoming polls.
The former BJP leader may either be fielded from Lambi, where Chief Minister Parkash Singh Badal is the Shiromani Akali Akali (SAD) candidate or from Jalalabad against Deputy Chief Minister Sukhbir Singh Badal.
The Congress has so far released the names of 100 candidates. However, the grand old party still has to select candidates for the remaining 17 seats for elections to the 117-member Punjab Assembly.
Punjab goes to polls on February 4.
--ANI