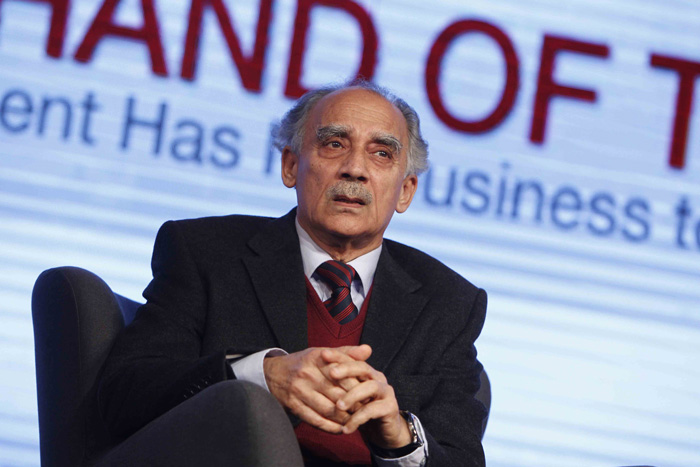 A day after Finance Minister Arun Jaitely blogged about how Narendra Modi "was the worst victim of intolerance", former union minister Arun Shourie countered him by saying that such statements would make the prime minister "vengeful."
In an interview with India Today, he said that claiming Modi is greatest victim of intolerance "is the most dangerous thing to do as it will give him grounds to be vengeful."
In one of the most scathing attacks on the Narendra Modi government, Shourie states that the Prime Minister has failed in fulfilling his "moral responsibility". Shourie described the Prime Minister's silence on the Dadri beef lynching incident as deliberate. He claims that there is a strategy at work where the Prime Minister maintains a "deliberate silence" while other people make statements on the issue, thus milking it for electoral purposes.
Speaking to Karan Thapar he said, "Prime Minister sets the moral standard and shows the moral path to his party members. Modi is considered a strong leader. How is he a strong leader if he can't discipline his own party workers?"
The former editor of The Indian Express also countered BJP's argument that the "Prime Minister cannot comment on each and every subject." Shourie said: "He does speak on each and every subject. Look at his tweets. From wishing David Cameron happy birthday to the stampede in Mecca, he tweets on every issue."
He also took on the prime minister and the party president Amit Shah for bringing up issues like reservation and Pakistan in the Bihar election campaign. According to Shourie, the duo is ready to compromise on the safety, unity and integrity of the nation and "do anything" in order to win an election.
Finally, he said that Modi has "brought his stature down" to the level of Lalu Prasad Yadav during the election campaign while Nitish Kumar, on the other hand, appeared like a statesman. He was referring to the Prime Minister's comment during an election rally that the Bihar government was "stealing the quota meant for backward classes and shifting it to a certain community."