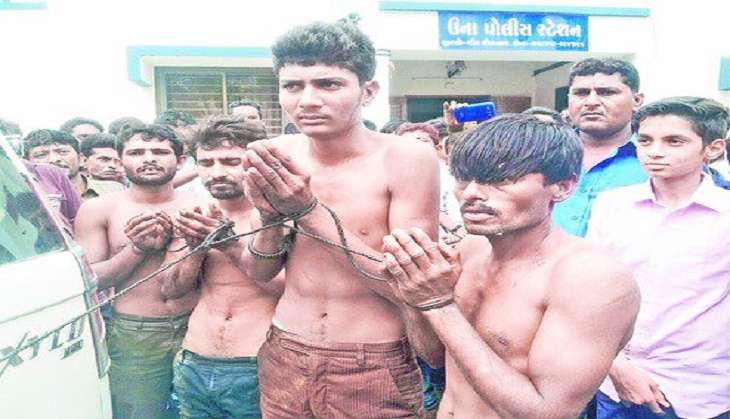 The father of one of the nine people arrested in Una, Gujarat, for the assault on Dalits they accused of cow slaughter, alleged on Tuesday that his son, a Muslim, had been forced by the others to beat up the Dalit men to prove Muslims are just as anti-beef as gau rakshaks.
The boy's father said: "I had sent my son out to buy bananas from a shop near the bus station. But as he reached there, Pramodgiri Goswami and others came there in their car and pulled the four Dalits out of the vehicle and tied them to the car. My son stopped there out of curiosity. While he was watching from a distance, others in the gau rakshak group asked him to take a turn to beat up the Dalits and thereby show that Muslims also stood against cow slaughter... Pramodgiri thrust a strip in his hands and exhorted him to beat up the Dalits."
The boy's father said he had evidence on video to prove his claim. The boy is 17 years old, says The Indian Express. He was arrested on Monday night and sent to Rajkot's Observation Home for Boys.
The man said: "I admit that he has beaten up the Dalit brothers and, therefore, he is guilty. But he was made to be part of the conspiracy without him knowing what it would mean."
Kiritkunar Joshi, deputy superintendent of police (SC, ST Cell), said: "The teenager is a friend of another accused named Deepak Shiyal. The boy had gone to Mota Samadhiyala riding pillion on Shiyal's motorbike. But, as of now, there is no evidence that the boy beat up the Dalits in Mota Samadhiyala also."