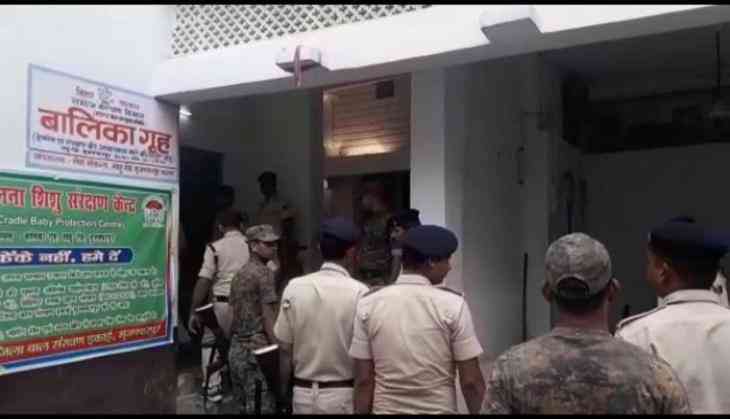 In a shocking incident, around 21 girls were allegedly raped in shelter home Bihar's Muzaffarpur earlier this year. A team of state police are digging up the premises of the shelter home for a buried body of a girl. A girl, one of the victims, in her statement, said that one of them was allegedly beaten to death and buried in the premises. The girl was apparently killed after a disagreement, with the staff of the home, she told the police.
Earlier an officer in the district administration was arrested in connection with the alleged sexual abuse of the girls at the state-run shelter home, said the police. The Nitish Kumar-led state government is under pressure, after opposition leaders and RJD acting chief, Tejashwi Yadav, attacked the state government for its "failure" to protect the girls at the shelter in Muzaffarpur.
"Since March, the Bihar government was aware of repeated rapes of 40 minors in the Muzaffarpur shelter by politicians, officials for years. Many had forced abortions. No action was taken but cover up is on a war footing," said the RJD leader.
Digging operation in shelter home premises started after the statement of one of the victims that a girl was beaten to death and buried in the premises after a disagreement with staff members.
Muzaffarpur shelter home alleged rape case : Digging starts in shelter home premises after statement of one of the victims that a girl was beaten to death and buried in the premises after disagreement with staff members #Bihar pic.twitter.com/3hEuUbuZO0

— ANI (@ANI) July 23, 2018
"10 people have been arrested so far, we will soon file a charge-sheet against them. None of the girls has mentioned that they were ever taken outside the hostel," said a senior police officer in Muzaffarpur, Harpreet Kaur. A special investigation team has been formed to probe the case.
"Nothing has been found so far at the shelter home premises where digging is underway. We are conducting a thorough investigation, the police is working independently," she added.
Of the 44 girls who were staying at the home, 14 have been shifted to shelters in Madhubani,14 in Mokama and 16 in Patna.
Also read: Nida Khan case: After fatwa, now Muslim outfit announces cash reward for stoning and shaving her head