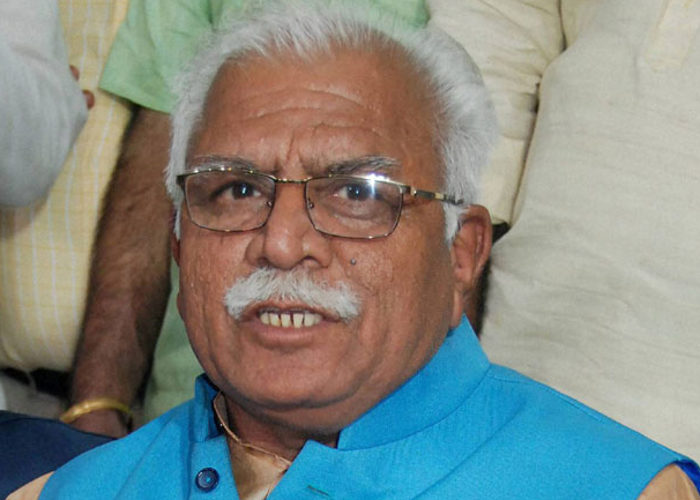 Haryana Chief Minister Mahohar Lal Khattar has sparked fresh controversy after he stated that Muslims can live in India if they give up eating beef. Speaking to the Indian Express, the CM stated that the cow is an article of faith in India, and that the Geeta and Sarawati were articles of faith for a majority of Indians.
Khattar, who has been associated with the RSS for nearly four decades now, also commented on the Dadri lynching, and claimed the incident was a byproduct of misunderstanding between the two sides.
He blamed Mohammad Akhlaq and said that the latter had made a loose comment about cows which had incited the mob to attack him and his son Danish.
In the interview, published on 16 October, The Indian Express reported that Khattar had tried to justify the Dadri lynching incident. When you see a close family member getting hurt or attacked, you lose your sense of balance and anger overpowers you, Khattar said.
The BJP leader stated that eating beef is unconstitutional as it hurts the sentiments of another community.
"They can be Muslim even after they stop eating beef, can't they? It is written nowhere that Muslims have to eat beef, not is it written anywhere in Christianity that they have to eat beef," he is quoted as having told the national daily.
However, according to a Times of India report published hours after the interview, Khattar's office later denied that the CM made any of these statements.
Reacting to the CM's statement, All India Majlis-e-Ittehad-ul Muslimeen chief Asaduddin Owaisi said that Khattar has a Memorandum of Understanding (MoU) mentality, and that his statements were not shocking.
My words have been misconstrued and twisted: Haryana CM ML Khattar on his statement on beef/Muslims pic.twitter.com/xyYpJrkoQv

— ANI (@ANI_news) October 16, 2015
Here is the audio of the interview released by Indian Express: