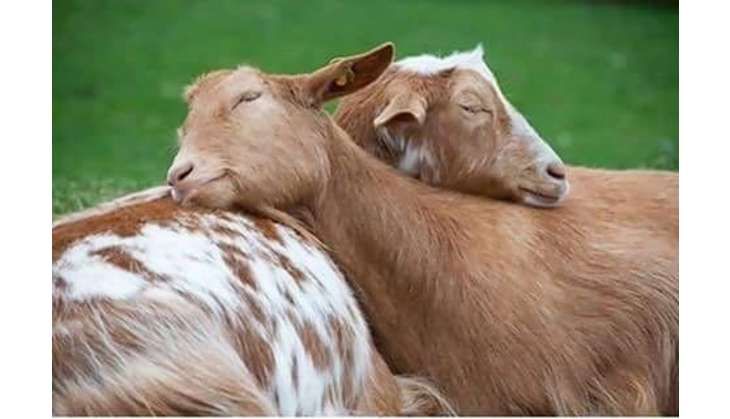 The Awadh unit of the Muslim Rashtriya Manch, backed by the Rashtriya Swayamsevak Sangh has decided not to sacrifice goats or any other animals on Bakr-Eid, being observed on 13 September.
In an interesting idea that has come to light, the Manch instead has decided to celebrate the festival by cutting a cake baked in the shape of a goat, reported The Indian Express.
The 5-kg cake will be cut at the Manch's Awadh prant office in Lucknow on Bakr-Eid.
The Manch workers have also decided that they will not cook biryani, instead, they will offer sewaiyan and dahi vada to their friends.
Awadh Prant convener of the Manch, Raees Khan said they want to send a message to society. "Bakr-Eid can be celebrated also by cutting a cake just like people celebrate birth anniversaries," Khan told The Indian Express, adding that if the practice receives a good response, he will try to promote it in other prants as well.
Co-convener Hasan Kausar said, "The Bakr-Eid festival spreads a message of humanity. We can sacrifice our children too for Allah but it is not right to kill a goat without any reason and eat its meat."
However, in a strange revelation, the national convener of the Manch, Mohd Afzal, was not aware about the Awadh unit's plans, reports The Indian Express.
The Bhartiya Janta Party, on 12 September suggested that Bakr-Eid be observed in an "eco-friendly" and called upon the intelligentsia to discuss the same.
Attacking party secretary Shrikant Sharma for such a proposal, according to The Financial Express, AIMIM MP Asaduddin Owaisi said he was trying to impose Hindutva ideology through such suggestions.
Owaisi said, "Assuming he (Sharma) said we should not perform any animal sacrifice on Bakr-Eid, the BJP is trying to impose its Hindutva ideology on India. But instead of doing so openly, it is resorting to innuendos. Can they make the same appeal against animal sacrifice by non-Muslims in many other parts of India?" reported The Financial Express.
Responding to a question on whether Bakr-Eid should be observed in an eco-friendly manner, Sharma said, "The way we are becoming more eco-friendly, the way a campaign in this regard for Holi and Diwali is going on in the country and the world... it is a matter of debate and there should be a debate over it. It will be good if the intelligentsia in the country discusses it."
Jamiat Ulema-e-Hind president Maulana Arshad Madani on the issue said, "The question of how Bakr-Eid should be observed is beyond human intervention. Communalism is being fomented everywhere but this is about ignorance of the spirit and foundations of a religion," reports The Financial Express.