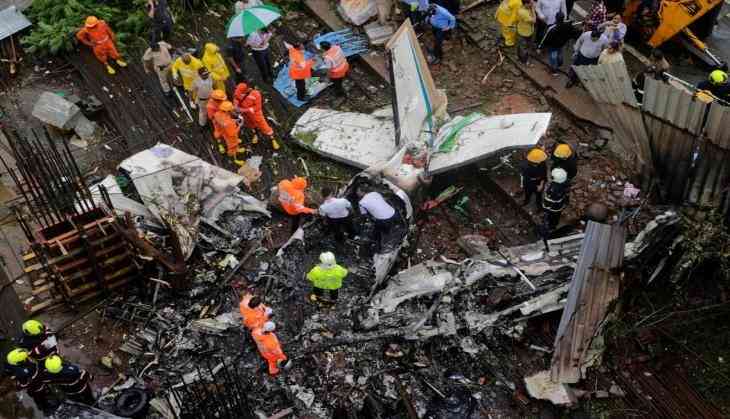 Mumbai chartered plan crash,
The small chartered plane that has completed its test flight and the 26-year-old aircraft was about to land in Mumbai's Juhu airstrip. Just 60 seconds before the landing, at 1.07 pm the pilot spoke to the Juhu air traffic control or ATC tower and confirmed the landing. But something horrible happened in those 60 seconds that the plane lost contact with the ATC officials at Juhu and Mumbai airports. Officials tried to switch frequencies to make contact but it didn't help.
A minute later, 12-seater Beechcraft King Air C90 with four people on board crashed into an under-construction building in Mumbai's densely-populated Ghatkopar. Investigators are yet to examine the black box, which records all flight information to ascertain what happened, reports.
However, Captain Pradeep Rajput and Captain Maria Zuberi tried their best to steer the plane away from a school and populated parts of the city to save the people and crashed through the boundary wall of an under-construction residential complex.
The CCTV camera installed in a building where the plane crashed and burst into flames has captured the incident. The CCTV footage shows how the crashing plane hits a red vehicle on the road, and then immediately turns into a fireball.
Reportedly, the plane had taken off for the 45-odd minute flight at 12.20 pm from the Juhu airstrip after a 'puja'. A video of the aircraft's last take-off has the engineers cheering its take-off. "Yes, the landing gearing is in," said one, others clapped excitedly.
The plane, a Beechcraft King Air C 90 turboprop, was sold by the Uttar Pradesh government to a Mumbai-based UY aviation company in 2014. "The deal was done after the plane had met with an accident in Allahabad," UP official Avnish Awasthi was quoted as telling ANI.
Also read: Mumbai plane crash: CCTV installed in Ghatkopar building captures the moments of the chartered plane crash that killed 5; see video