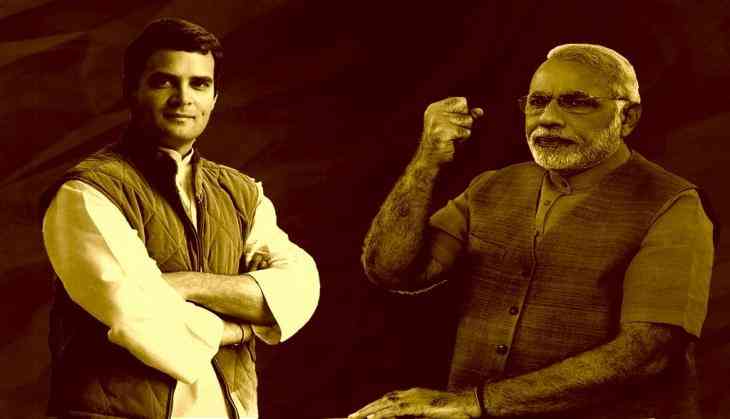 Rahul Ganghi and Narendra Modi
While campaigning in Madhya Pradesh, PM Narendra Modi has targeted the dual standard of the Congress party over cow protection and has mentioned the Kerala incident, where some Congress workers were allegedly killing the calf.
Speaking in Chhindwara, PM Modi said, "A recent video has surfaced on internet in which a senior Congress leader from this state is caught saying that for winning these polls, they're ready to take support from goons&those who don't obey law. Such a thing is absolutely unacceptable."
PM Modi agains targeted the Congress party over the generations rule which has been there for the party, since India got its independence and challenged the grand old party to present their report card.
He said, "Making false promises is the very nature of Congress. They ruled for four generations. I challenge them to present a report card what they did in all these years."
Remembering former PM Rajiv Gandhi's analogy of One rupee, Modi said, "When Rajiv Gandhi ji was PM, he said if govt released one rupee, only 15 paise could reach people. Why was it so? Who looted those 85 paise? When we came to power, through Aadhaar, we put a check on corruption & saved nearly Rs. 90,000 crore."
BJP president Amit Shah, during a rally in Chrhat in MP, said "The Congress party is an ATM of false promises, whichever question you may insert instantly there will be a false promise in return. But BJP is an ATM of growth and development."
The MP election is scheduled for November 28 and the result will declared on December 11.
Also read: Bajrang Dal's women wing allegedly hold 'aarti' in Taj Mahal; says, 'Namaz has damaged the sanctity of the
#WATCH: "Madhya Pradesh Congress ke manifesto mein toh aap gai ka gaurav gaan kar rahe ho,lekin Kerala mein khule aam raste par Congress ke log gai ke bachde kaat kar ke uska maas khate hui tasvir nikal karke batate hain ki gaumaas khana humara adhikar hai,"says PM in Chhindwara pic.twitter.com/pyioS6jOZX

— ANI (@ANI) November 18, 2018
When Rajiv Gandhi ji was PM, he said if govt released one rupee, only 15 paise could reach people. Why was it so? Who looted those 85 paise? When we came to power, through Aadhaar, we put a check on corruption & saved nearly Rs. 90,000 crore: PM Modi in Chhindwara. #MadhyaPradesh pic.twitter.com/oKu5dIdrov

— ANI (@ANI) November 18, 2018