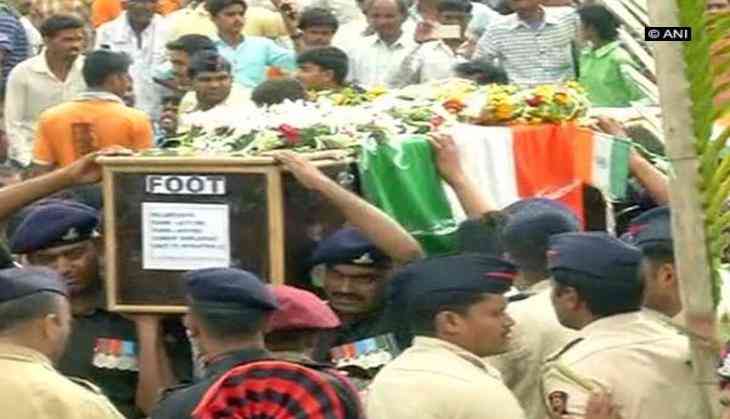 The mortal remains of army soldier Sandeep Jadhav, who lost his life in an attack by the Pakistan Border Action Team (BAT) a couple of days ago, was brought to his village in Maharashtra's Aurangabad district on Saturday for his last rites.
Jadhav and sepoy Sawan Mane lost their lives during an operation in Jammu and Kashmir's Poonch district along the Line of Control on June 22.
The army killed two terrorists in retaliation.
The Pakistan BAT team violated the sanctity of the (LoC) at around 2 p.m., when it entered 600 meters inside the Indian territory and attacked an area domination patrol of the Indian Army.
BAT is a mix of Pakistani Special Forces and Jihadis who are used as force multipliers by the Pakistan Army on the LoC.
This was the third BAT attack in the Poonch sector this year. On May 1 Pakistan army's BAT badly mutilated the bodies of two soldiers -- head constable Prem Sagar of Border Security Force and Naib Subaidar Paramjit Singh of the army on of the Line of Control (LoC) at Krishna Ghati sub-sector of Poonch district in Jammu division.
-ANI